Hot Selling Vintage Train Rides Are Available in Dinis
Zhengzhou Dinis Amusement Equipment Machinery Manufacturing Co., Ltd. specializes in the development, design, production and sales of amusement rides, and including more than 100 kinds of products. Besides, the product specifications are complete, the structure is reasonable, and the quality is excellent. The most important thing, all the indicators of the products meet the quality standards of the national amusement machinery and equipment. Then, there are many types of train rides. Besides, the different themes will have different shapes. The vintage train rides has a sense of the age. Due to its antique appearance and unique shape, it is very popular among train riders.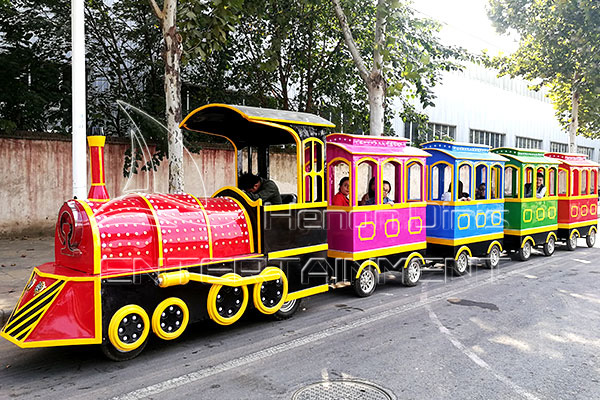 Best Vintage Train Rides for Sale in Dinis
The vintage train rides are a trackless sightseeing trains, and it is our company's independent development and production. Since vintage train rides was put into the Zhengzhou and Shanghai markets, it has been warmly welcomed by tourists. Welcome new and old customers to visit Dinis amusement rides factory!
6 Attractive Features of a Vintage Train Rides
Structure: First, the locomotive part uses wrought iron material. Secondly, the carriage uses a fiberglass material. In terms of structure, there are 4 small train-shaped cockpits, and we can also customize the carriages according to customer requirements.
Price: The price of vintage train rides will vary depending on the shape of the product.
Carriage: The number of carriages is usually 4, each carriage can take 4 people, you can increase or decrease it according to your needs.
Appearance: The vintage train ride's appearance is very beautiful and ornamental.
Drive way: The trains is powered by high quality, traction locomotive batteries. So, it has no pollution and no emissions.
Apply: It is suitable for children and adults.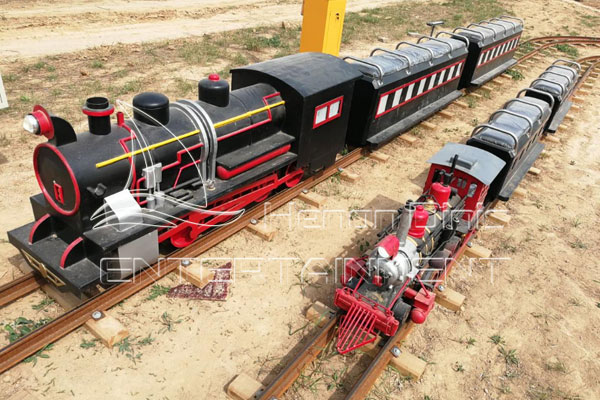 Where Can Dinis Vintage Train Be Applied?
It is very suitable for use in tourist areas, pedestrian streets, shopping malls, parks, playgrounds, residential areas, etc. furthermore, the emergence of antique trains has made these places active. what's more, it is also a sightseeing train in a park or ecological park.
What Kind of Ride Experience Does the Vintage Train Bring?
The vintage train rides are an amusement trains that mimics the design and production of real trains. Besides, antique trains can be divided into vintage and cartoon styles. The appearance and color of the vintage train ride, and it is designed according to customer preferences. When the train starts, it will play beautiful songs, and carrying the tourists running on the trains, just like sitting on a real train. Don't doubt, Dinis vintage train rides can bring the tourists a very happy train experience.
Dinis Cartoon Vintage Train Rides for Sale
The cartoon vintage train's appearance is designed according to children's hobbies. Dinis cartoon vintage train's modeling is realistic, cute and interesting. When the train drive, it plays a beautiful children's music, which is very popular among children and young friends. You can use it in outdoor venues, such as amusement parks, parks, zoos, theme parks, plazas, etc., or in indoor venues such as large supermarkets and shopping centers.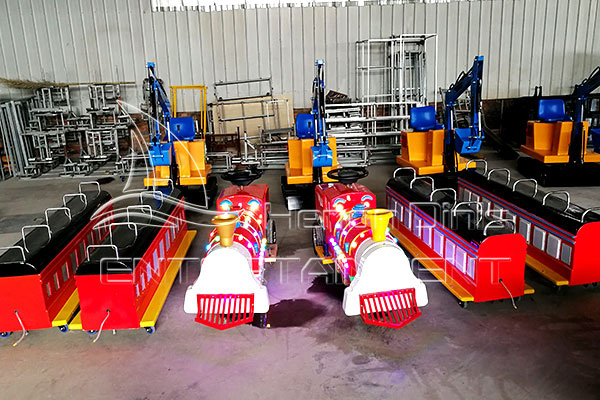 Children Vintage Train Rides for Sale in Dinis
With the improvement of living conditions, entertainment has become an indispensable leisure way for modern people. The amusement rides are undoubtedly the best way to play. Especially the children. Therefore, in the face of a wide variety of amusement rides with different styles, the novelty of antique trains has attracted children's curiosity. The vintage styling will make it look back 100%. This antique amusement train is driving slowly, and whistling flute gently swayed. Just like children playing together. Without the limitation of the track, the operation is more convenient. So, the children can watch the scenery while sitting in the train. What's more, children can sit on the train and watch the scenery. So that the children can have more fun while they are in the carriage.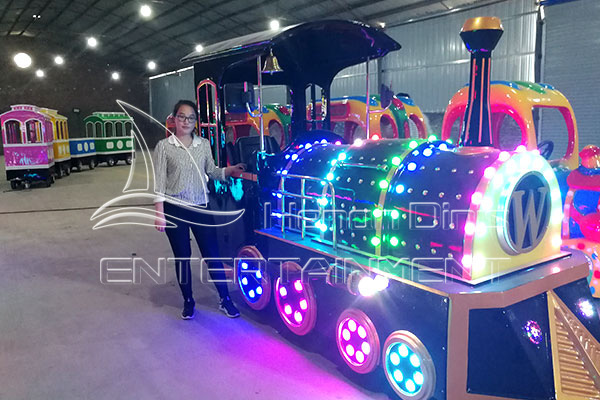 Amusement Park Antique Train Rides for Sale
The amusement park antique train rides can be a means of transport for tourists. Besides, it is also a bright tourist attraction. Vintage trains can accommodate multiple attractions in the scenic area, especially for large-scale locations. This is an effective tool for improving the convenience of transportation at venue. And it works perfectly with other vehicles. Furthermore, the amusement park antique train rides are available in a variety of styles. According to the venue, our factory customize the size of the train.
Zoo Vintage Train Ride Is Available in Dinis
If you like doing interesting thing, maybe you can go to the zoo. It's better goes to the zoo on holiday with friends, family or alone. It is a place that will completely relax and entertain. The children like to go most, and the fee of the train rides is cheap. It is a good place for the public. Children like to go because they can ride an antique train. Besides, the cost is very cheap, and adults like it too. This is a great place to ride a vintage train. Take a vintage train rides in the zoo, you can see all the scenery of the entire zoo, and it will take tourists through the various places of the zoo, while enjoying the animals.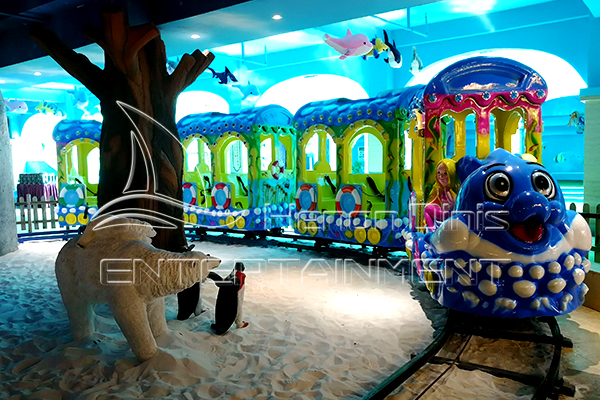 Dinis Children Vintage Track Train Rides for Sale
Children vintage track train rides is also called a small train for children. It is a small train amusement rides specially designed for children. These rides have tracks. You can adjust the track according to the size of the venue. Of course, it is okay to increase or decrease the number of trains appropriately. What's more, there are lanterns around the rides that give the kids a different experience. Then, the children vintage track train rides are easy to install and operate.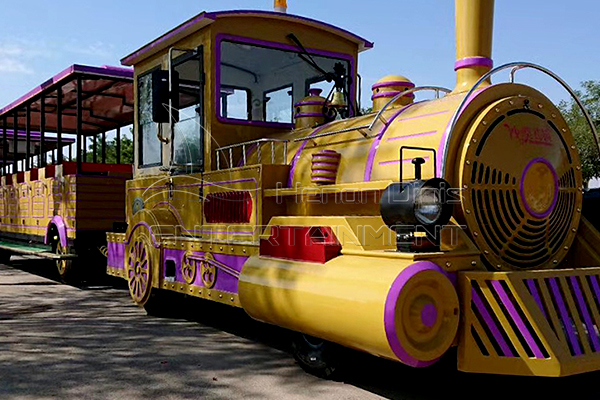 Vintage Trackless Train Rides for Sale
Dinis vintage train rides is one of the classic products. This product is a kind of trackless small train rides, it is environmentally friendly and pollution free. When sitting on such a train rides, will make tourists happy. At the same time, the tourists feel more novel and erase the exhaustion of work. Compared with the children vintage track train rides, Dinis vintage train ride's unique advantages are short manufacturing cycle and low manufacturing cost. It is not only an amusement rides, but also a tool to improve the quality of places such as attractions.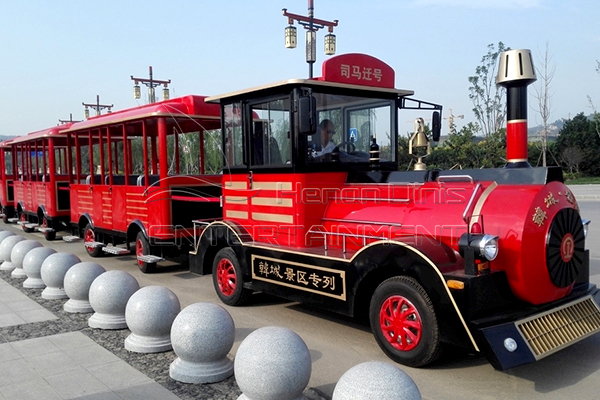 Unique Pedal Design for Large Antique Trains
Dinis antique train is for sale, it comes in two styles. One is a small vintage train and the other is a large antique train. In terms of appearance, large vintage train rides have been designed in different ways compared to small antique trains. For example, it adds a patterned pedal design.
On the one hand, it is a non-slip pattern pedal that will not rust even when it is raining or outdoor, because we have already done anti-rust treatment. What's more, since it will not rust, the bright appearance will last forever, which will attract more tourists.
On the other hand, it is to ensure the safety of passengers and the convenience of riding. First, when we design, we consider that the user population is not only adults but also children. Secondly, the age and size of the children are relatively small, so we have designed the appropriate height for the children at the height of the pedals by professional techniques. then. Children can get on and off easily, of course, children under the age of 3 need to be accompanied by an adult.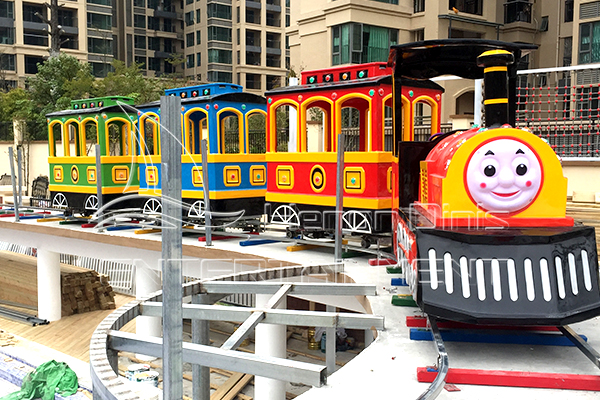 What's the Difference Between Diesel Train and Battery Train?
First, diesel antique trains have relatively large noise and exhaust emissions, while battery vehicles are a new energy and environmentally friendly train ride.
Secondly, in terms of price, diesel trains are more expensive. However, the test price of the battery vintage train rides is expensive.
Third, diesel trains are easier to refuel than charging. Besides, antique battery trains need to be recharged every day, generally for 8 to 10 hours. However, if the battery is dead, you can change the battery directly, as this will not affect the operation of the train.
Finally, if you want to increase the endurance of the train, you can do so. For example, if it is a diesel train, you can refuel at the locomotive. Secondly, for a battery vintage train rides, you can add a battery or capacity.
If You Are Interested in Antique Trains, Please Contact Us!
Our amusement rides factory is a 15-year-old brand amusement rides manufacturer. We has rich experience and many products. this vintage train rides, it looks like the image of an early train, giving people a sense of nostalgia when riding. Furthermore, the vintage style is a very popular fashion feature today. Antique trains can run on any flat road and have a wider range. Therefore, it is not subject to site restrictions. Besides, the requirements of antique trains on the ground are not very high. Drive with a pneumatic tire and then have a wider and more free range. It uses a power source and is more environmentally friendly. If you want to invest, but don't know which one to choose, then look at our vintage train rides! It can bring you long-term good returns.