Ride on Train with Tracks Is Very Exciting!
Track trains in Dinis is a kind of amusement rides that is familiar to most customers and tourists. So ride on train with tracks, this is one of the customers' favorite rides. Further, its product range is very diverse. In recent years, the most attractive track trains include mini track train, chasing toy track train, elephant toy train with tracks, children spray ball toy track train rides, etc. There are many types for you to choose.
What Is the Structure of a Mini Track Train?
The mini track train is based on a standard train. The model is usually design into a vivid and animated cartoon image. Children's innocence is satisfied. First, the track of the train is a perfect circle, which allows the train to drive continuously. Second, the locomotive usually uses FRP material; finally, the rear seat usually uses plastic material. In terms of raw materials, plastic is more resistant to pressure than FRP. Besides, the track of a train is made of standard rails. Thus, it is durable and easy to assemble and disassemble.
Come and Ride on Mini Track Train
What's more, compared with the elephant train with tracks, chasing track train, children spray ball track train rides, etc., the mini track train's price are more favorable. If you want to buy Dinis  track train, or you want to ride on  train with tracks, this kind of mini track train with long-term benefits is a good choice for you.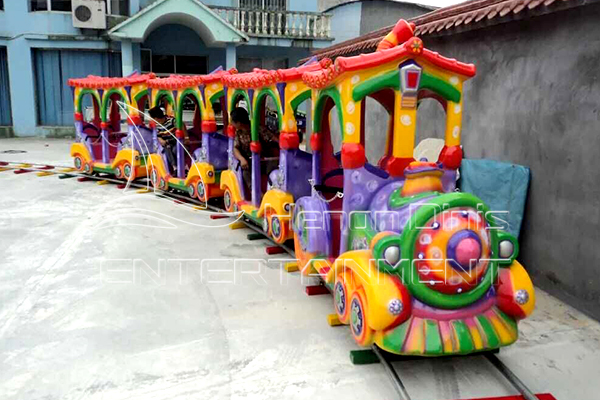 Ride on Train with Tracks of Dinis Chasing Train
Ride on train with tracks for sale. First, the chasing track train is a classic track amusement equipment. Then, the whole set of amusement ride consists of 4 vehicles and matching track, it uses high quality FRP material. Besides, the most attractive part about the chasing track train is the different animal models on the flat ground in the track, which will attract the attention of adults and children. More importantly, each carriage's operation is independent but closely linked. The customers can chase each other while riding, because chasing track train is also a chasing train.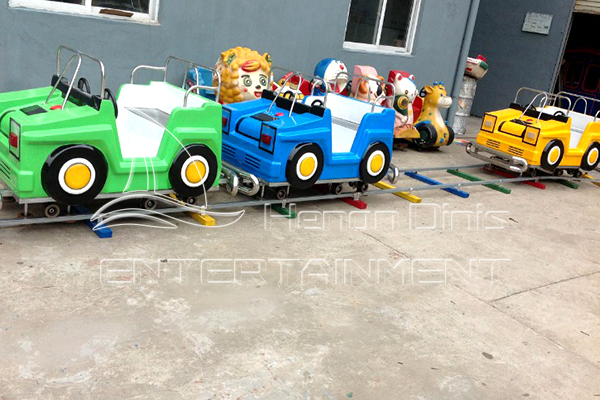 What Is the Chasing Track Train Special Configuration?
Accessories: There are lanterns around the chasing  track train. When the train rides are running, you can see chasing track train lights up, it looks very beautiful, especially at night.
Safety: Chasing track train drive safely and stably. Therefore, passenger safety is guaranteed.
Operation: It is easy to operate and disassemble,
Application: It is suitable for indoor and outdoor.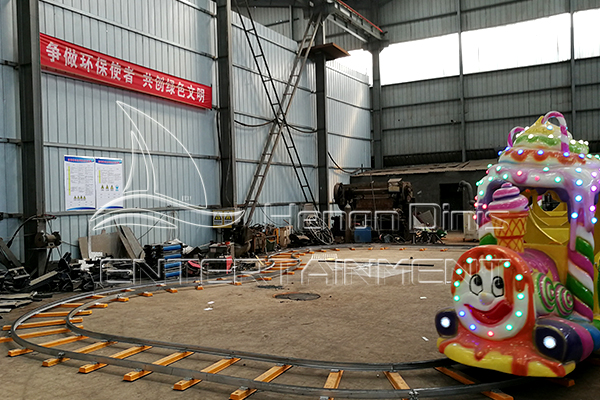 Ride on Dinis Elephant Train with Tracks
The elephant track train is a new type of amusement rides in Dinis. First, it consists of various styles animals. Moreover, it has novel shape, high degree of simulation, delicate craftsmanship and vivid colors. The elephant train with tracks automatically turns along the track, and is accompanied by the whistle of the train, which is realistic and moving. Just like exploring in the forest, the atmosphere is very lively, it is very popular among children. At the same time, it also inspired the children's enthusiasm, allowing them to have their own happy space after busy study and life, but also cultivate their emotions.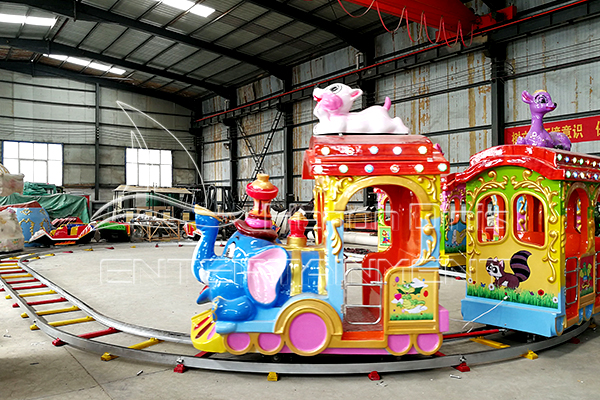 Ride on Dinis Children Spray Ball Rides
In recent years, track trains have always been popular with children. As people's living standards change, children are no longer satisfied with a single sitting on a track train. In this case, the children spray ball rides appeared. If you want to ride on train with tracks, children spray ball rides is a good choice.
What Is Children Spray Ball Rides?
Dinis designs and produces a new education children's amusement rides, that is children spray ball rides. It is suitable for children aged 4-10. On one hand, it has 6-10 carriages moving along the track. On the other hand, it breaks the monotonous ride of the ordinary track children's play equipment. Much more interesting, at the same time as the rides is started, many sponge balls are sprayed at the center crater. So that children can use the net bag to catch the ball When sitting in the carriage, or catch the ball by hand. Finally, whoever grabs more balls wins! Because of children spray ball rides is novel and dynamic, as well as has good participation. What's more, When the ball jumps, making the atmosphere more cheerful and passionate! We have another angry bird theme, mermaid theme, and so on for customers to choose.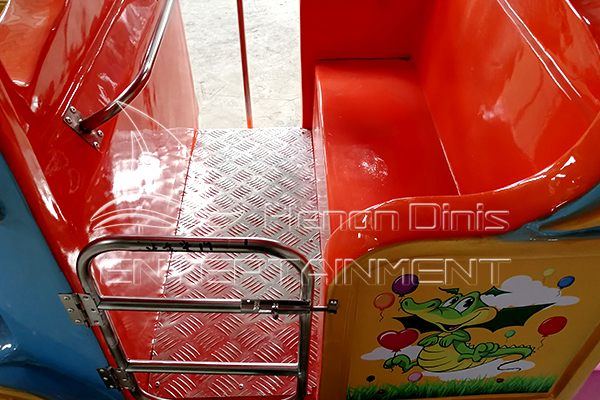 What Is the Structural Design of the Children Spray Ball Rides?
Children spray ball rides of track train is commonly called track train. And most of track train children spray ball rides manufactured from Dinis are all driven by motors.
In terms of the children train rides configuration, there are more than 1000 table tennis balls inside the children spray ball rides of track train.
In the middle of the train rides, there is installed a fan. Alongside the fan, it is installed concave. When you open the fan, you can see the air flowing in the table tennis ball. This structural design is to make your children play ball conveniently.
For your kid's safety sake, Dinis train rides design teams set a net outside the trains, so don't be afraid of the ball flying outside, there is a net outside.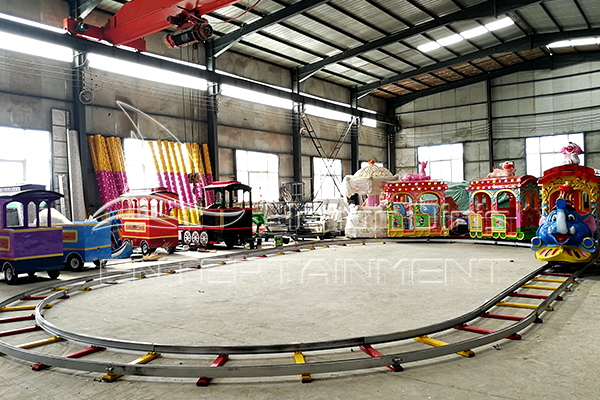 Convincing Reasons That You Can Choose Dinis
Lighting: The joyful spray ball is a mushroom light, and its flicker can determine the frequency of the flash based on the frequency of the music. When the children spray ball rides of track train flashes, there will be like a running water flashing, which can save power and be beautiful. Besides the mushroom lights, the children spray ball rides of track train also has a sun light, and to ensure the safety and entertainment of children at night.
Applicable: It is suitable for attractions, resorts, parks, square playgrounds, etc.
Material: The paint ball of this children spray ball rides is made of high quality FRP alloy.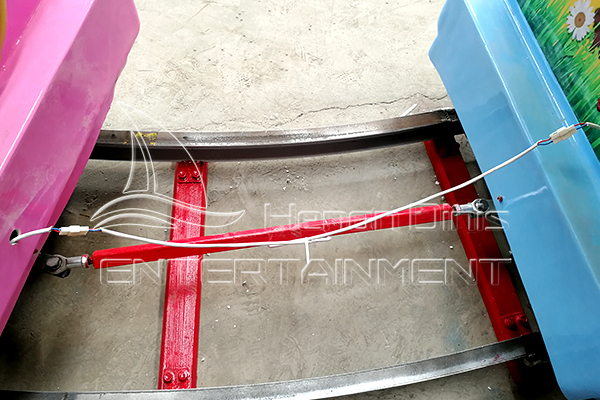 Why Children and Adults Both Like to Ride Children Spray Ball Rides?
When you ride on train with tracks, besides, listening to the dynamic music that comes with the train, you can exercise your child's coordination skills. At this time, the child will come over to see what it is? Therefore, it also stimulates the desire to explore. Even the adults are happy to catch the ball, the process of riding is very happy. Moreover, it also increases the fun of interaction between the child and the parent. Children spray ball rides is a good outdoor amusement ride. Because of its different ways of interaction, it can better enhance parent-child feelings.
Ride on Train with Tracks of Dinis Thomas Train
Dinis Thomas track train adopt standard accessories produced by formal factory. So that it is durable, and have low failure rate. For one thing, all FRP products are adopted automotive paint. And the paint surface is smooth, and the color is bright. Secondly it is not easy to fade. For another, the safety is very reliable and well received by customers. Finally, according to the image design of Thomas, the appearance is very beautiful and has a great viewing effect. Besides, you can use it in many places. Such as tourist areas, pedestrian streets, parks, playgrounds, communities and other places.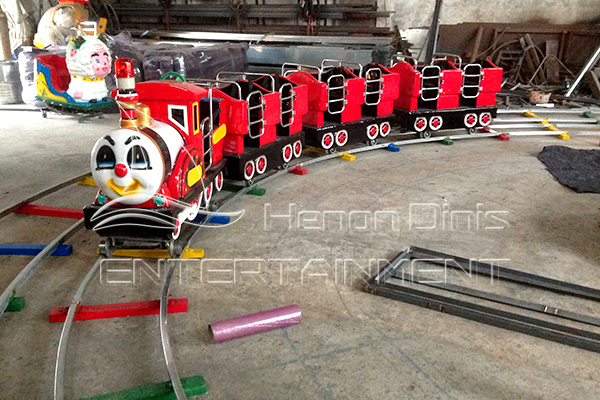 Where You Can Ride on Train with Tracks?
Dinis track trains are more common in attractions, parks, playgrounds, community, supermarkets, shopping malls, etc. What's more, except these common places, zoo and kindergarten are also good places to manage track trains. Every day has many tourists go to the zoo to visit. The novel  track train allows people to experience the fun of ride while visit. Similarly, kindergarten's children like this lovely train ride very much, and it would be great if you were operating a track train here. In my opinion, the benefits of investing in a  train with tracks are obvious. If you want to know more about Dinis track train, please contact us.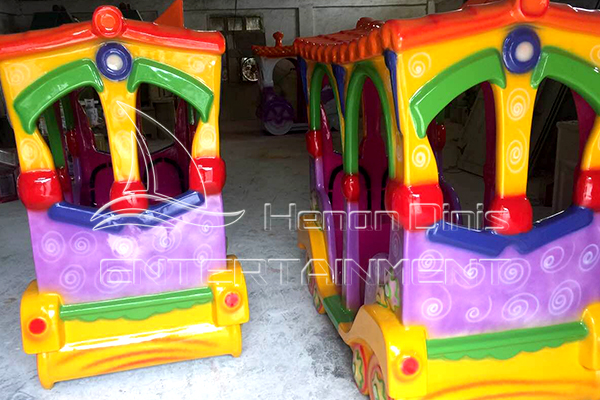 Why Choose Dinis Instead of Other Amusement Rides Companies?
Dinis is a 15-year-old professional manufacturer with a complete and scientific quality management system. Besides, our factory produces a wide range of products, with small investment, wide application range and flexible operation. Customers who want to invest in amusement rides can look. Children spray ball rides of track train not only provides fun for our children, but also allows us to develop our brains while playing and cultivate the team spirit of our children. Therefore, the most attractive rides are the Dinis track train.
Cost: The price of track trains is not high generally, it is between thousands and tens of thousands. Therefore, the investment is small, and the return speed is fast, which is especially suitable for users who choose initial investment. Take 2 castle trains in a single carriage as an example. The price is about 11,000 yuan. If the benefits are good, you can recover the full cost within one month.
Place: The track trains have low requirements for the site. The site installation without any obvious pits. If there is a track laying, you can install it. Especially suitable for the fields with trees, flowers and rockeries between track.
Installation: Product installation and separation are more labor-saving. Small track trains only need one person to install and separate. Larger ones only need two or three people, and there is no need to lift large facilities such as forklifts and cranes.