Christmas Train Track Rides for Sale
Christmas is a day to celebrate, although the weather is very cold every Christmas, but it is because of the snow, Christmas looks fantastic. What's more, people will go out to play on Christmas day. So, if you want to experience a different Christmas, then look at the Christmas train! Dinis Christmas train track rides for sale, which can be used not only at Christmas but also during various carnivals. Because it has a lot of styles, such as the classic fantasy Christmas train and the white snowman series. The most important thing is that you can enjoy discounted prices when you buy at the festival. So hurry and place an order!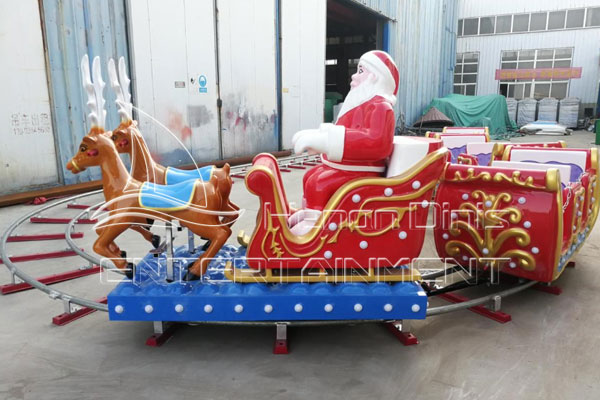 Super Dreamy Christmas Track Train in Dinis
Dinis magical electric Christmas train is on sale! Sit on it and let you feel the happiest moment of the winter. The overall color of the train is big red, but it doesn't look cheesy. Why is this? First of all, the locomotive is a Santa Claus and two reindeer, super realistic! Then, its carriage is in the shape of a sled, note that it is an open carriage. What's more, the entire train body is covered with lanterns, if it is night, it is really beautiful under the red body.
White Series Christmas Train for Sale
This Christmas train track rides in Dinis is a new type of Christmas train. Beautiful and practical. On the one hand, for some people, it is very cold to take a small train in winter, so we think that you choose this Christmas electric train is the best. Because it is a closed carriage. Second, the roof and doors are closed, so it looks like a snow house in winter. On the other hand, because it is small, installation and movement are very simple and convenient if you want to move. If you like this Christmas train, please contact us quickly!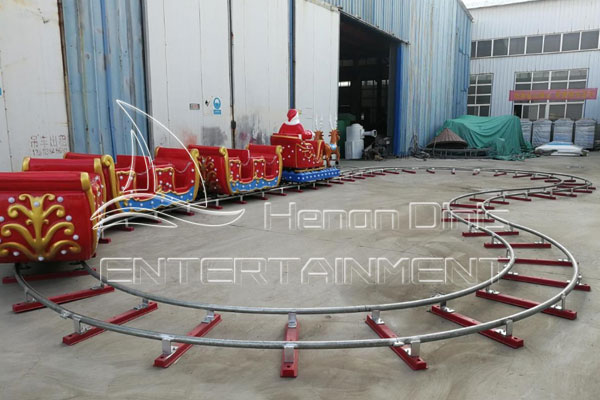 Details of the Christmas Train Track Rides
When you see the beautiful electric Christmas train, do you know what this amusement train looks like? Then, do you want to know? Look, the Dinis Christmas train track rides are for sale, now we will tell you the specific details. First of all, a Christmas train, which includes a car power distribution charger, so you don't have to worry about charging. What's more, if you want to change the battery, then we recommend that you replace it locally. On the one hand, this can save you some money. On the other hand, our company's batteries are internationally versatile. Secondly, besides the unique Christmas theme of Dinis, there are other elements that can be changed according to your needs. For example, the body color.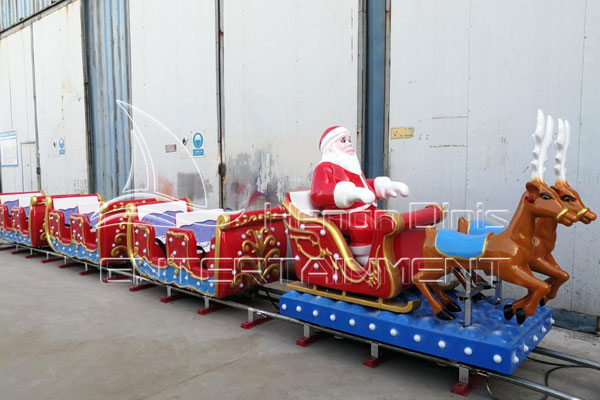 Best Christmas Present!
What is the best Christmas gift? At Christmas time, everyone will receive Christmas presents! Toy? Snacks? We don't think this is the best Christmas gift because it only exists on Christmas Day. What's more, it does not have much practical significance. More importantly, parents should choose some meaningful gifts for their children. On the one hand, not only can you exercise all aspects of your child. On the other hand, it is also possible to educate children for themselves, so that the distance between parents and children is getting closer. You see, Dinis's Christmas train track rides are not only able to ride, but also the feeling of self-operation can exercise their coordination of hands and feet. So, do you think this is a good Christmas gift?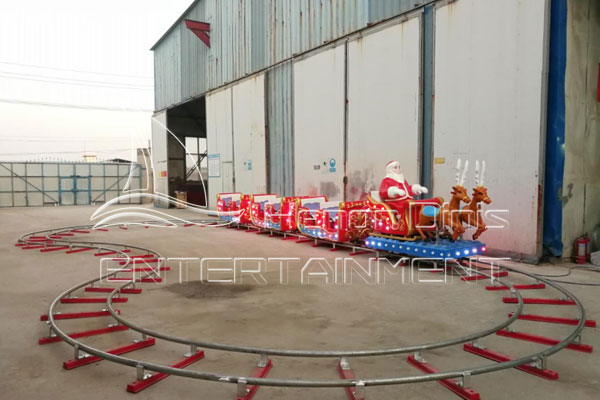 Where to Buy Christmas Themed Electric Train Sets?
Come and find out about Dinis's Christmas Train Set! There are many different styles. However, we would like to ask what is your budget range? If your budget is tight, then we can give you a discount. However, you can rest assured that our products are of quality because we have our own professional factory to produce. Besides, our Christmas train was originally doing activities, so the price is very favorable. On the other hand, if your budget is enough, then you can buy a few more, after all, the price is very attractive. Finally, now you know where you can buy a good electric Christmas train track rides? Of course, it is Dinis Amusement Rides Factory! Moreover, if you have time, you can come to our factory for a field trip, and it may be more helpful to see it with your own eyes.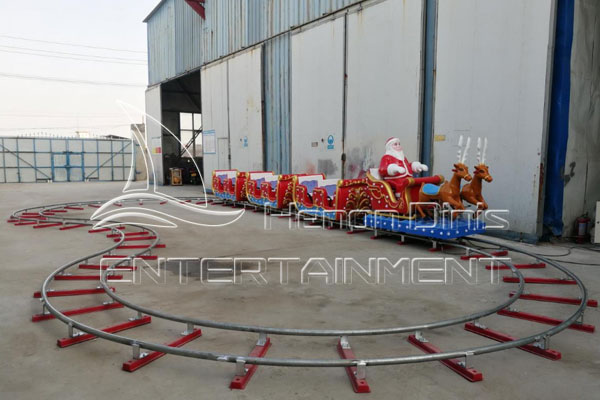 How to Put a Christmas Train Track Together?
Dinis Amusement Equipment Factory is a professional small train manufacturer. The newly produced Christmas Carnival train is also very popular after its launch. What's more, everyone said that even the track of the Christmas train is different from other ordinary trains. Because our track has an absolute height from the ground, it is very safe, especially for kids. Then, let's talk about how to put the train tracks together and then install them. First, you need to make sure that the track where the track is installed is flat and dry. Second, the track slope is less than five thousandths. Then, the track height difference should be controlled to ±3mm; finally, the sliding electrode should be flat, and the bolts at the joint with the rubber board need to be tightened.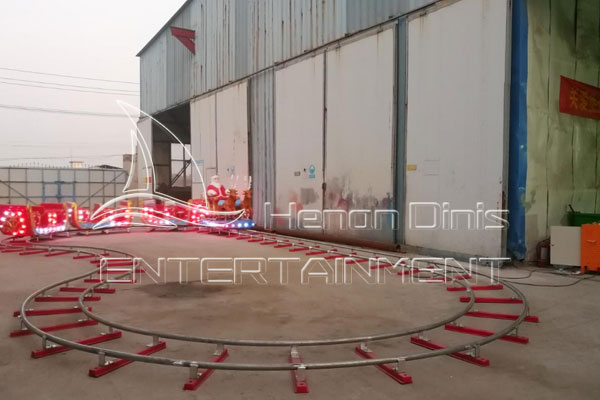 What Is Included in the Cost of a Christmas Train?
When you choose a Christmas train you like, then you definitely want to know the cost of the train? Now we can tell you about the cost. First of all, the Dinis brand Christmas train track rides for sale, including the price of a locomotive, 3 or 4 carriages, batteries, music, LED lights and export wooden boxes. What's more, if you feel that the number of carriages are not enough, then you can increase the carriage. However, 3 or 4 carriages are more popular in the market. Further, when you take a Christmas train at night, the lights on the train look extraordinarily beautiful. More importantly, if you like, we can give you some extra gadgets.