Finest Diesel Train Game
What is the best diesel train game? Of course, on holidays, you take your friends or families with you to ride on the Dinis diesel train, and then enjoy a fun train ride together. Besides, why are our diesel trains so popular? Because it is also a tourist train. Therefore, passengers are not only able to take the train, but more to enjoy the scenery of the journey. Moreover, we have two types of diesel trackless trains for sale. One is a vintage trackless train and the other is a giant tourist train.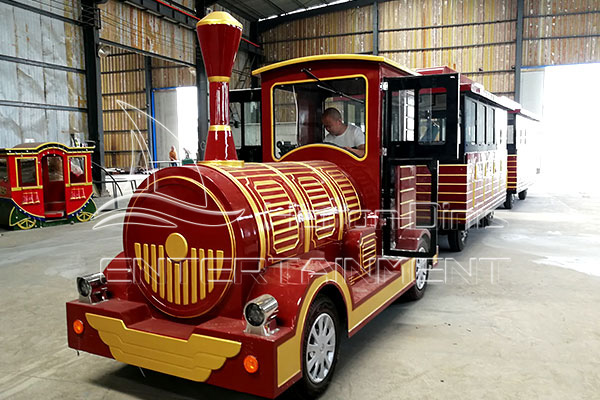 Dinis Amusement Train Manufacturer Offers 2 Types of Diesel Trains
We are a manufacturer and seller of amusement trains. Besides, our two diesel trains for sale are very different types, but they have something in common. On the one hand, the same thing is that their shapes are vintage and have a noble and elegant feel. On the other hand, the size, shape, and application venue are different.
Amusement Park Diesel Tourist Trackless Train Manufacturer – Dinis
We are a manufacture of amusement park diesel train rides. Besides, our company's large tourist diesel park trains for sale, and it is a kind of trackless amusement train equipment. Meanwhile, it is a diesel train for sale in amusement park. Secondly, because of the train size is large, its application venue is mainly concentrated outdoors. For example, city pedestrian streets, large amusement parks, scenic spots, garden hotels, villas, resorts, etc. Besides, we need to know how the train works! Then, the switch of the train is also very important. Furthermore, its component is start switch, indicator light, other combination switch, front and rear switch, etc. Finally, on the train carriage have an MP3 player, so that passengers can hear beautiful music while riding.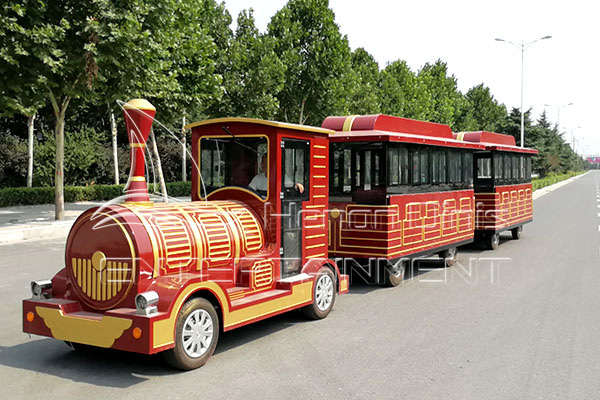 Small Diesel Trackless Train for Sale for Kids to Ride
This is another small diesel train for sale of our company. Its shape is antique style, and it is a diesel trains for sale for kids to ride. And the kids like this little train. What's more, adults have a special feeling for this historic diesel trains for sale. Go to the amusement park and take this electric train, which is like a diesel train game. Further, our diesel trains rely on beautiful appearance and quality accessories to attract customers! Finally, we are sure that you have a wonderful diesel train experience.
First of all, there is an audio inside the carriage. Then, music Bluetooth can be connected to the phone. Next, this comes with a power supply, USB is available, and is a four-channel speaker.
Second, our train delivery is a cabin connection and is connected using the most advanced trailer links. The most important thing is that it can be easily disassembled.
Third, our seat materials in the train carriage are the best. It is an air suspension seat that is safe and comfortable.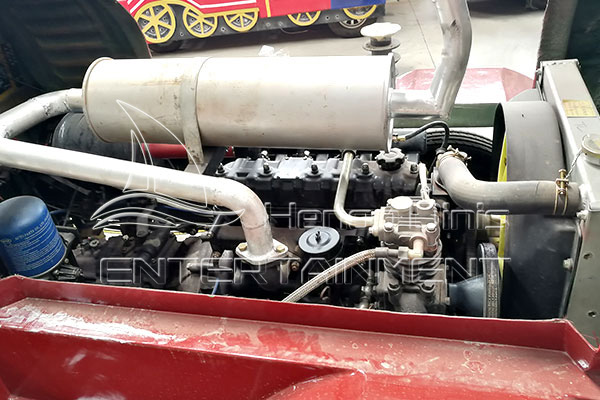 The 6 Superior Aspects of Dinis Diesel Train Game
Seat: Advanced simulation leather fabric + high resilience PU.
Audio: box high-end player, high-definition video, with voice station function.
Tire: passenger compartment aluminum alloy wheel rim, main engine tire 600-14
Paint: The whole car adopts automobile grade ordinary paint, computer paint adjustment, professional spraying equipment.
Car body: high-quality carbon squaring tube welding frame –
Light: First, the components of the light are combined headlights, turn signals, combined taillights, and electric horns. Second, it has the most popular RGB control, which can achieve the chasing effect.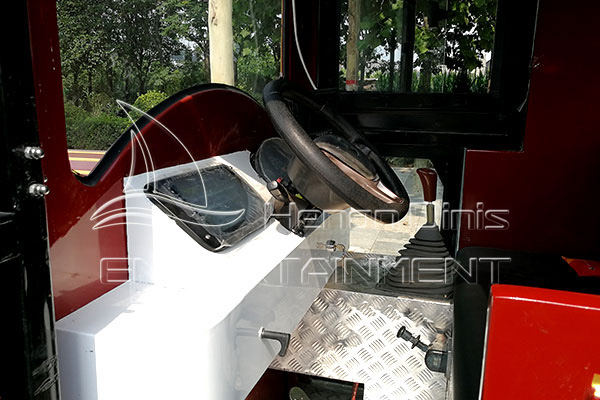 What Is the Maximum Load of the Diesel Train?
On the one hand, our tourist diesel train have one locomotive and two carriages. First, the maximum load of the car is 700 kg. Besides, the weight of the locomotive is 500 kg and the weight of the body car is 800 kg. On the other hand, a small vintage amusement train can accommodate 4 passengers in one carriage, and up to 24 people can be loaded on an antique diesel train. What's more, each car can accommodate up to 6 people(including child ride on diesel train).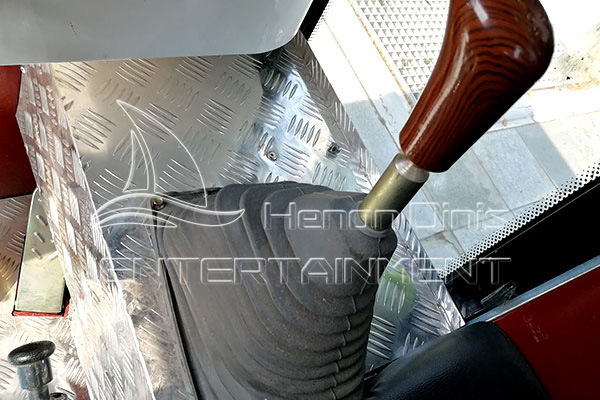 What Are the Components of the Dinis Diesel Train's Power System?
Powertrain transmission system: Adopt rear drive.
Steering system: Gear rack and pinion machine, automatic clearance compensation function.
Front axle and suspension: The leaf spring are not independent.
Rear axle and suspension: Integral rear axle, leaf spring non-independent suspension.
The brake system: Front and rear dual circuit hydraulic drum brake, car brake device (vacuum booster)
Train power system: CVT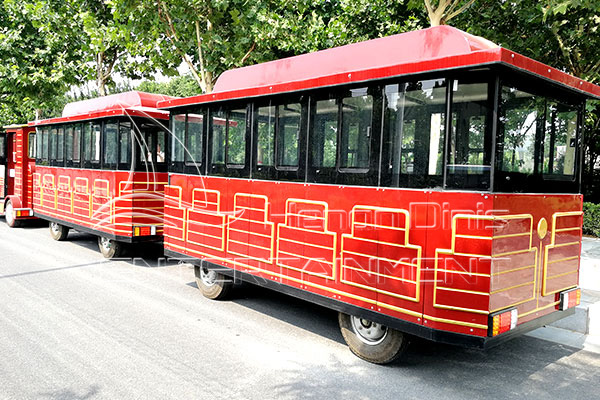 Why Is Dinis Diesel Train the Most Cost-effective Business?
In general, diesel trains are a little more noisy than electric trains, and the cost is higher. But its endurance is very long. Conversely, electric trains are low cost, but after running full load every day, you need to fully charge it every day. On the one hand, if you buy our diesel train, our entire opportunity to send a charger, as well as a car power distribution charger. On the other hand, according to customer requirements, we can customize the color of the train body. Therefore, such super cheap diesel trains, do you want to buy one?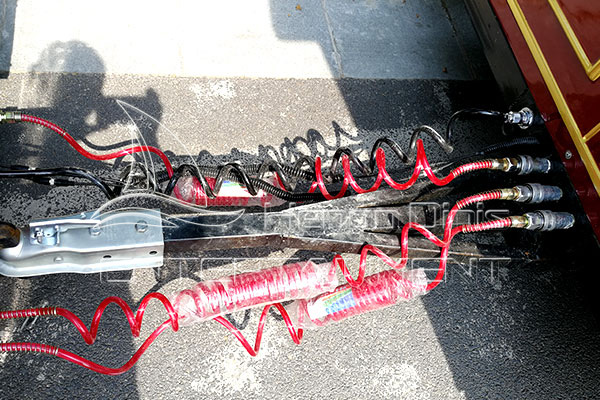 Fun Diesel Train Game, Kids Are Playing!
The most interesting diesel train game is that visitors can feel the interactivity and diversity of our amusement equipment. First of all, through the most classic vintage train image to attract a group of kids and adults. Therefore, during the holidays, we will also have light antique trackless trains, tourist lights electric train rides and so on. What's more, the diesel train is a trackless track train. On the one hand, it is a unique landscape of the scenic spot, because it reminds people of the history of steam trains. Meanwhile, it is also like a real diesel train for sale. On the other hand, it is also a special kind of transportation. Take you around to explore the beauty of the amusement park.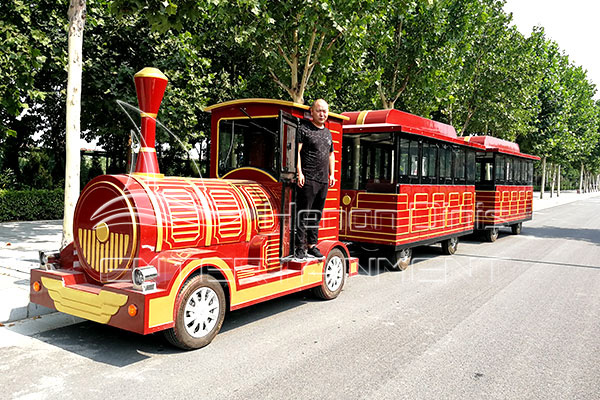 Factors Affecting the Price of Diesel Trains
There are many factors that affect the price of Dinis diesel trains. Next, we will explain one by one.
First of all, the size of the train is one of the important factors affecting the price. On the one hand, the small diesel antique train has four carriages, so the number of carriages is different. On the other hand, the large tourist diesel train have two carriages. However, the price of this carriage is also different from that of a small antique train.
Second, the appearance materials of our diesel trains are of high quality. Then, the whole car uses car-grade paint, computer paint, and professional spray equipment. Therefore, unlike the products sold by agents, our company's products are produced by our own professional production personnel. The meaning is that the price will be more expensive.
Finally, not only can you play fun diesel train games, our diesel train can also be made into an electric trackless train. If you like Dinis kiddies electric train rides, you can visit our electric trackless train page and then send us an inquiry!