Pick Dinis Kids Train with Track
Do you know the kids train with track in Dinis? Come and choose our children's small train rides! You can choose from a wide range of sizes and styles. For example, the most common ones are 4 seats, 8 seats, 14 seats, 16 seats and so on. Second, its track size is different, but you can choose the size of track. What's more, its track shape is also varied. For example, round, B-shaped, oval, 8-shaped and so on. In summary, the number of carriages determines the passenger capacity. Moreover, why are our kids track train rides so popular? Keep reading!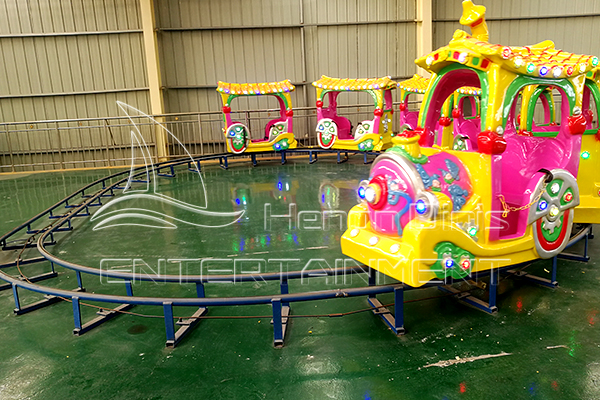 Specifications Introduction of kids Train with Track
Kids trains with track for sale at Dinis Amusement Equipment Factory. It is specially designed for children. Ok, now let's introduce its specifications. First of all, it is a simulated train, so its track is similar to a real train. Secondly, the power supply is 220v, which is controlled by the control cabinet. What's more, the input rail voltage DC power supply is powered by a DC motor. Therefore, our track train rides are safe and reliable. Finally, our train accessories are also colorful. For example, music, train analog sound, alarm bell, broadcast function and so on.
16 Seats Mini Antique Kiddie Track Train Rides
The shape of this ant kids track train is petite and cute! And this train is an innovative new electric kids train with train. On the whole, it integrates safety, novelty and stimuli into one, fully integrating the new ideas, new ideas and aesthetic tastes of the modern amusement industry. Because the Dinis track series trains are beautifully styled, light-fast and bright paint, high-quality production level and favorable price, they are popular with consumers. Further, especially for young children and children, they have won praise and trust from our customers. Besides, although the scale is small, the function is completely no less than the big train. Further,it can take up to 16 people.
Hottest Thomas Kids Train with Track for Sale
The Thomas kids train with track also belongs to the classic amusement equipment. First, it has a locomotive and three carriages. Second, it needs to run along the set track. Therefore, when children are sitting on the train, they can feel the special feeling of taking the train. The most important thing is its lovely shape and exquisite design, which are very attractive to children. We can also customize small trains according to customer needs.
Where to Buy Kids Train with Track?
Dinis Amusement Rides Factory is an amusement equipment manufacturer with decades of production experience. Whether in production or in production technology, our company is very trustworthy. If you want to invest in amusement equipment, then Dinis small train amusement equipment manufacturers are your best choice. On the one hand, you can access the product, then call or email us. On the other hand , you can explain your needs for us, we will respond to you in time and give you a satisfactory answer. The most important thing is that we not only have professional factories but also our products are trusted by domestic and foreign customers. So, act now!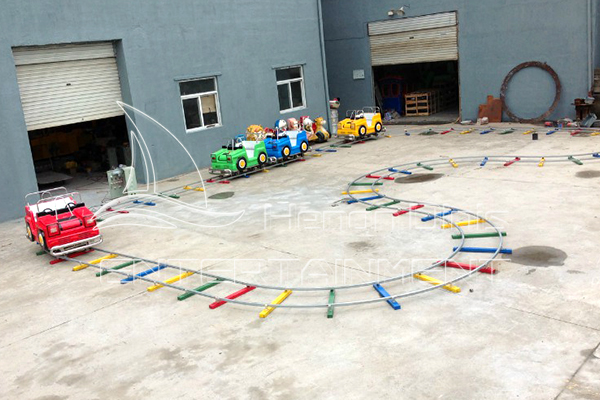 How to Make Backyard Track Trains Popular with Kids?
Dinis backyard kids train with track for sale, come and buy it! First of all, we use high-quality thick FRP technology and national standard steel pipe material, and then through mechanical compression molding, the new protective layer is not roughened to ensure that the color does not decolorize. What's more, the car paint process is used, and the paint is not easy to fall off. Therefore, the electric track train is ideal for your investment. Besides, you can place it in a variety of crowded parks, squares, shopping malls, children's amusement parks, residential areas and other public places. More importantly, the children enjoy the feeling of controlling the train, so this small backyard track train ride is especially suitable for children.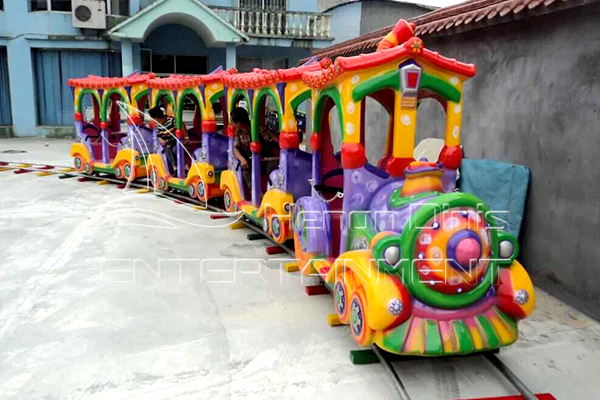 Do You Want to Buy a Small Electric Track Train for Your Child?
With the improvement of living conditions, people are increasingly demanding leisure and entertainment. Especially for children, amusement equipment is undoubtedly the best way to relax. So parents will take their children to the amusement park to play, or buy a play equipment. Therefore, parents should carefully consider a question at this time, which is the best choice of amusement equipment? First of all, it is price concessions, and secondly, safety and quality is also very important, after all, it is for children. Look, Dinis children's track train for sale, it is a combination of safety, novelty and excitement. Besides, this device is also free of age restrictions, smaller children can also ride, very safe, come to Dinis Amusement Equipment Factory to see, find your favorite small train for your child!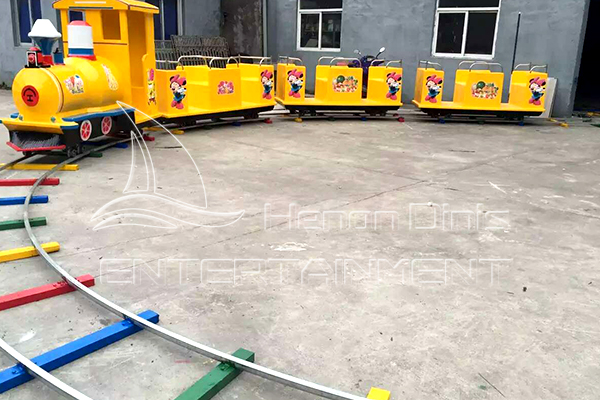 Easy Way to Build Kids Train Tracks!
When you buy the Dinis kids train with track, the first thing to do is to lay the track. So, do you know how to install the track? Don't worry, our after-sales service staff will tell you how to build a track! In fact, the installation of the track is very simple, then we will tell you the method. First, level the site first. Then, connect the tracks in numerical order. Next, you need to connect the conductive head and the carriage. Second, connect the power supply. Finally, plug the power plug of the control cabinet into a 220 V sockets, and the power switch of the control cabinet is turned on. If the indicator light is on, it will work.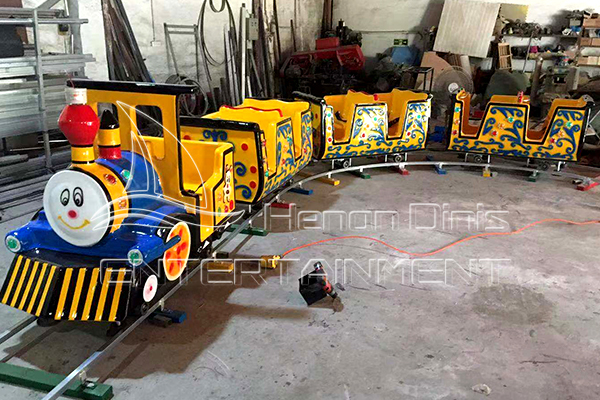 The electric track train has always been the classic and timeless embodiment of the square. We investigated the merchants who operated the small trains on the square through field investigations. They said that the track train business was relatively stable. Then, there is no obvious distinction between off-season and peak season. So, this is something that no other amusement equipment can match. Think about it too, children like to drive a car around since childhood, there is a car can take him to see how he is not happy. Moreover, the track train is really a small investment, and the income is fast. It is a good project for investment. The most important thing is our small train factory direct sales, professional manufacturing. Further, credit is our philosophy, and innovation is the driving force behind our development.