Dinis Thomas and Friends Track Rider Train
Thomas is really popular! Especially the children. Many children are real Thomas train enthusiasts. Whether it's cartoons, toys or clothes, as long as there are Thomas elements, they love it. If you or your child likes Thomas, take a look at the Dinis Thomas Train and make sure it will meet all your needs! Sitting on a small Thomas train in the forest, although it is a short distance, but for Thomas fans, the excitement is overwhelming. Although we don't know what kind of train you like, there are many types of our Thomas and friends track rider train, so you can choose. For example, classic blue Thomas, mini red Thomas, and colorful Thomas and so on. The most important thing is that if you don't find the shape you like, you can tell us what you need, and then our factory can customize Thomas train according to your needs.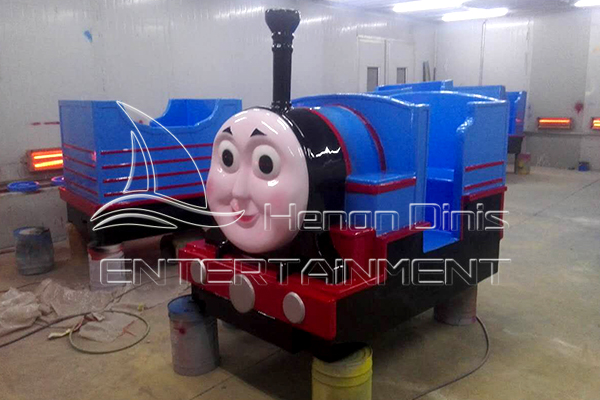 Mini Red Thomas and Friends Track Rider Train for Sale
Red is always the most festive color, it will give people a feeling of excitement and surprise. Dinis Thomas and friends track rider train for sale, price concessions, come and buy! First of all, this small train is a small electric track train suitable for children from 3-12. Second, like the Vintage Train Rides, it has a chimney on the locomotive. But what's interesting is that it doesn't smoke, it just shines, because of the colored lights. Please note that this is not costly, so if you like this beautiful light, we can add a little more to you. Moreover, its tracks are also in different shapes, and different track shapes can experience different ride track experiences. So, if you like, come and consult us!
Classic Blue Thomas and Friends Track Rider Train Available in Dinis
The same face as Thomas in the cartoon, super cute! First of all, the white big face and the big black eyes, its image looks very realistic. Secondly, the blue body is especially like a treasure house. If you take this small train, you can experience the feeling of hide and seek. Then, you can choose the train shape and number of carriages you want. Of course, the more the number of carriages, the higher the cost. However, in general, 3 to 4 carriages are the best choice because it is a good deal.
Why Do Many People Like the Thomas Train?
It seems that many people have a small train complex. When they are on the same train and heading for the same destination, they will feel particularly happy, especially with a sense of belonging, whether it is an adult or a child. The Dinis Thomas and friends track rider train looks very beautiful. Most of the time, many people are not willing to get off the bus. Look, that small train is moving! In fact, the balance of children is better than that of adults. It seems that the Thomas train in pediatrics is quite exciting. Also, don't forget to take pictures while you are riding, and record your happiest moments. Most importantly, everyone is very engaged. Finally, the child realizes happiness, and the adult also finds the childlike feeling, which is enough!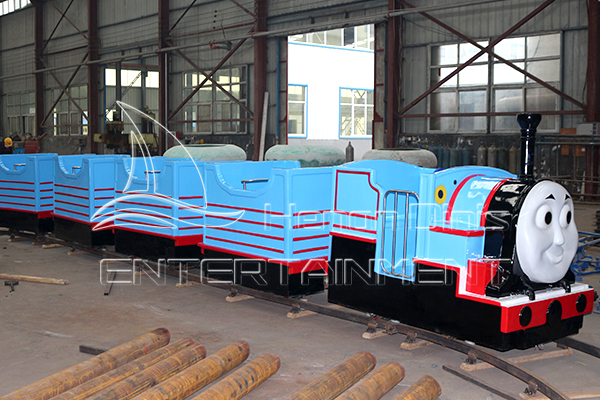 About the Design Source of Thomas and Friends Track Rider Train
The prototype of the Thomas train first appeared in the story of the Railway Series created by British pastor Ruifu Audrey in 1945. Later, David Milton made it an animation, that is, Thomas and his friends. First, the story tells that on the beautiful island of Duoduo, the warm and helpful Thomas is a lovely locomotive. Secondly, he is a perfectionist and likes to help others, but he is often involved in trouble because of his enthusiasm. However, because he is optimistic and cheerful, he will soon forget unpleasant things. Therefore, he is always very happy. Besides, Thomas has a lot of good train friends, they are united and friendly and work diligently. Most importantly, they pick up different passengers every day, so a lot of interesting things happen, and they recognize the importance of fairness and friendship.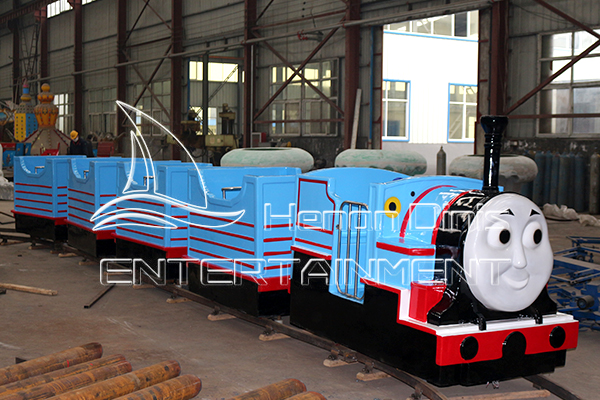 The Most Attractive Design of the Thomas Train
The best rides should be very convenient. For example, it is easy to move or install. Look, the Dinis Thomas and friends track rider train for sale! First, the shape of this small train is very realistic. Secondly, the small train has 4 carriages and can make up to 16 people. However, children under the age of 3, we recommend that parents need to be accompanied. Then, this train looks beautiful and the seat is a bit small. Maybe Dad will not sit in. Besides, the speed of the train is very slow, so children over the age of 3 can actually sit alone, but still pay attention to safety. Fasten your seat belt and grab the handrail. If you sit in the carriage and you can see the Thomas stickers outside the stadium, the passengers are waving all the way to Thomas and his friends. Very happy!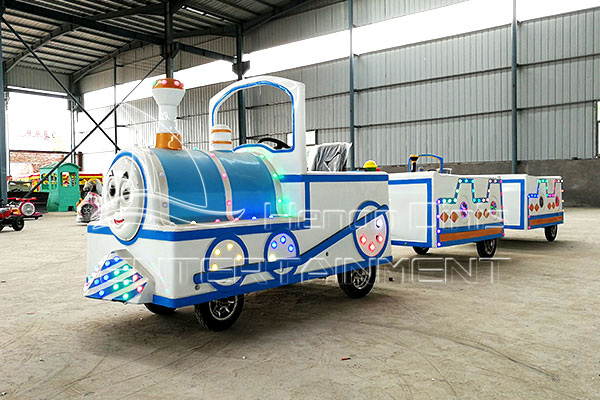 3 Peculiarity of the Thomas Train
Customizable aspects: Our company can provide customized services. Second, there are many customizable aspects, such as color, shape, track shape, drive way, theme, and material.
Comprehensive and perfect after-sales service: Our company will arrange special personnel to solve various after-sales problems for customers.
Quality materials: All of our Thomas train rides are made of high quality materials of national standards. In appearance, we use FRP material, because the product will always maintain a bright and beautiful appearance. Secondly, in the paint material, we chose a constant temperature paint, which will not fade.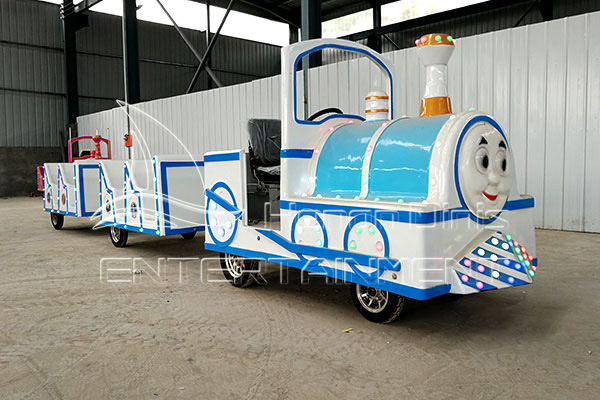 Top Thomas Train Manufacturer Dinis
A number of high-quality suppliers: We are committed to producing high-standard products to create greater value for our customers.
Cost-effective price: The price of our products is corresponding to the quality of the products. Many new and old customers should know that our small train prices are very favorable. At the same time, you don't have to worry about things like we will cut corners, because we are honest manufacturers with 25 years of production experience.
High-quality production base: Dinis Amusement Equipment Factory produces all kinds of amusement equipment indoors and outdoors all the year round. First, every equipment is designed with care. Then, every equipment is selected from the highest quality materials. Besides, from high-quality glass steel to national standard steel, we are all meticulous. Moreover, the FRP is polished by the professional painter in the dust-free paint room. Finally, a beautiful piece of work is presented in front of the eyes, with bright colors, smooth surface and demeanor. Rich, realistic expression.
24 hours service: When you purchase our Thomas train or want to consult us, if you have any questions, you can always ask us, we will answer you in the first time.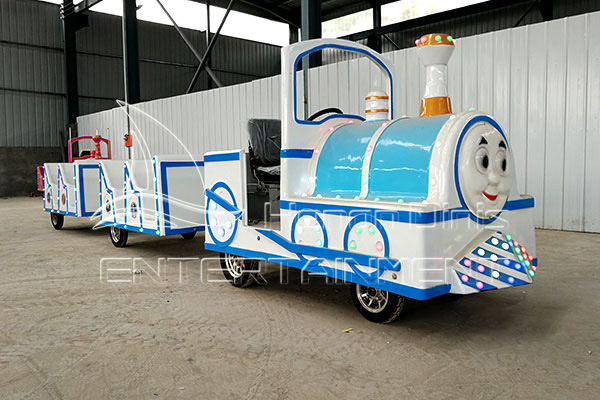 What Is the Purpose of Purchasing a Thomas Train?
Why is the Thomas train different from other trains? Because it has a strong mass base and everyone is very familiar with it. So, what is its use? Let us introduce it now. On the one hand, because the train is very mobile, you can put it in a market, so you can get some income, because you can use it to carry passengers. On the other hand, when you buy our train rides, you can use it to carry out the rental service, so that you can not only make money but also the cost of your original purchase can be quickly earned back.