Dinis Electric Tourist Train for Sale
Dinis trackless train, also known as the trackless electric tourist train. It is a new type of amusement equipment with no pollution and no emissions. What's more, our designers design a lot of shapes according to antiques or cartoon characters, which are very beautiful and have high ornamental value. On the one hand, the body is made of special FRP, which is durable and can bring you long-term good returns. On the other hand, we can add or remove train carriages according to customer requirements. More importantly, Dinis Amusement Equipment Factory maintains a good relationship with many suppliers and manufacturers.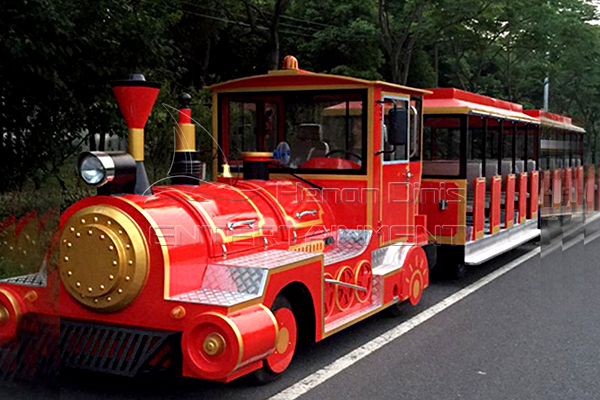 Introduction to the Origin of Trackless Electric Tourist Train
The trackless electric tourist road train originated in Europe and the United States in the early days. We can see in the movies that there are many large sightseeing trains in Europe and America that travel around the scenic spot. The batteries of many sightseeing trains in our country are all imported from the trackless sightseeing trains. The battery is the key to determining the life of the sightseeing train. The original trackless battery tour train was relatively rigid in style. However, Dinis Amusement has made great innovations in appearance and color. They give people a bright, refreshing feeling. And there are not only tourist electric train in the scenic spots, but also some large-scale factories and schools that have a electric tourist train.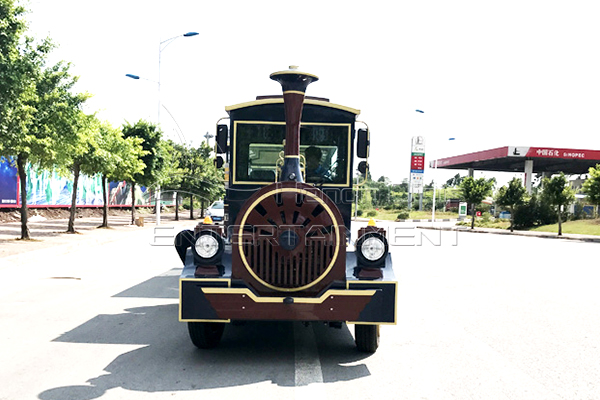 7 Characteristics of Electric Tourist Trains
The electric tourist train is an independent and innovative amusement equipment. First, it is also a special scenic spot transport. Besides, it not only has a beautiful appearance. But more importantly, it allows visitors to enjoy the scenery along the way. Further, it is the best choice for kids amusement rides.
This electric trackless train is suitable for urban village shopping malls or large shopping centers, farmers markets, attractions and product promotion and promotion.
The mini electric train consists of a locomotive and two passenger carriages, which can hold up to 40 children and adults.
According to different terrains, the mini train can continue to run for about 80 km. Generally, it can be run indoors for 20 hours or outdoor for 15 hours. Besides, it is a good outdoor children's amusement equipment.
Without tracks, you can drive on flat ground such as concrete floors and tiles.
The body shape is made of FRP, which is corrosion-resistant, bright in color, smooth in surface and difficult to fade.
Use environmentally friendly batteries as power to save energy and ease of use.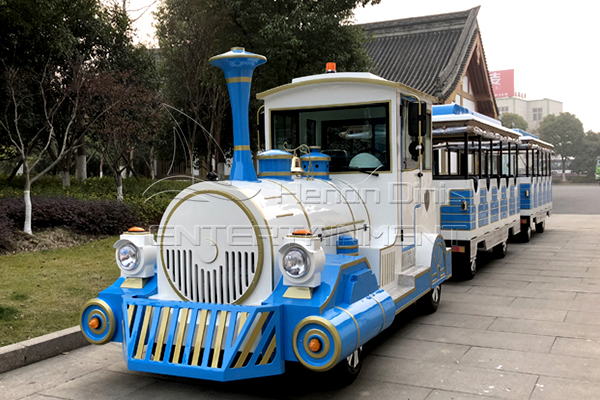 Dinis's Electric Tourist Train Guidebook
As a kind of passenger riding tool in tourist scenic spots, commercial streets and other areas, electric sightseeing trains are generally tourists or customers. Therefore, it is an important performance index for sightseeing trains to have a wide field of vision and ride comfort. Besides, if the small train needs to be driven in a small area with many pedestrians in the week, the driver needs to frequently use the accelerator pedal, steering wheel and brakes. Most importantly, because this small train is battery driven, it is environmentally friendly. Come and see what new electric sightseeing trains are out of our factory!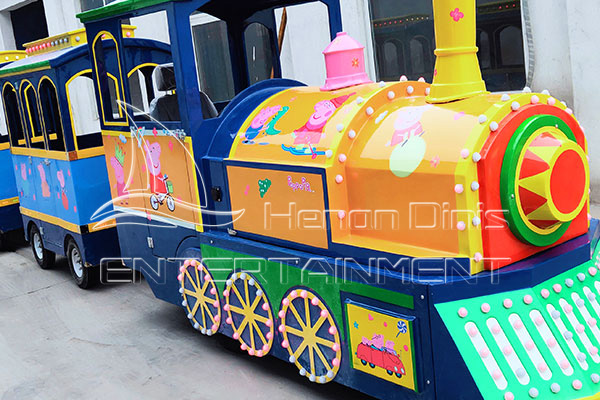 Product Categories for Electric Tourist Train
The series of this trackless train produced by our company has a cartoon shape and bright colors. First of all, small electric trains include marine trackless trains, elephant trackless trains, vintage trackless trains, and bullet trackless trains. Besides, large-scale electric sightseeing trains have a wide variety of shapes and are the first choice for outdoor playgrounds.
Cartoon Trackless Electric Tourist Train for Sale
The cartoon trackless train equipment is a trackless amusement equipment designed by Zhengzhou Dinis Amusement. It is a battery train. First, there is a steam tire under the car that can be driven under a flat road. Second, the body is made of special fiberglass reinforced plastic. Therefore, it is durable and can bring you good long-term benefits. Second, the device has freedom of movement and there are no venue restrictions. Besides, it is suitable for large commercial areas, plazas, communities, amusement parks, attractions, etc. More importantly, the product has a beautiful appearance and is popular among men, women and children, and has a high ornamental value.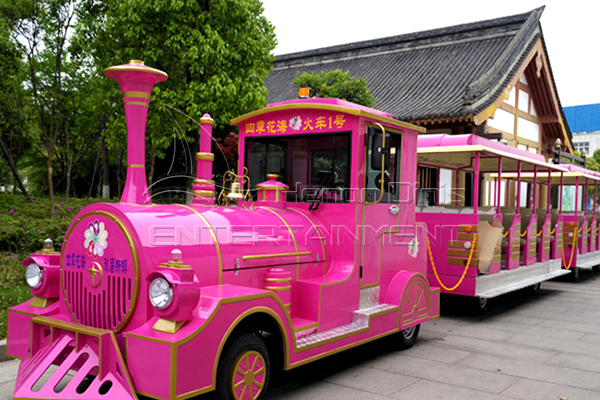 Large Electric Tourist Train Are Available in Dinis
Steam train equipment is well known and full of memories! Therefore, we design the sightseeing train according to this design inspiration. For those who are very nostalgic, it is a very powerful product. Secondly, the product uses a battery as a power source, which has the characteristics of energy saving, emission reduction, and environmental protection. It is suitable for use in amusement parks, tourist areas, scenic spots, large communities and other places.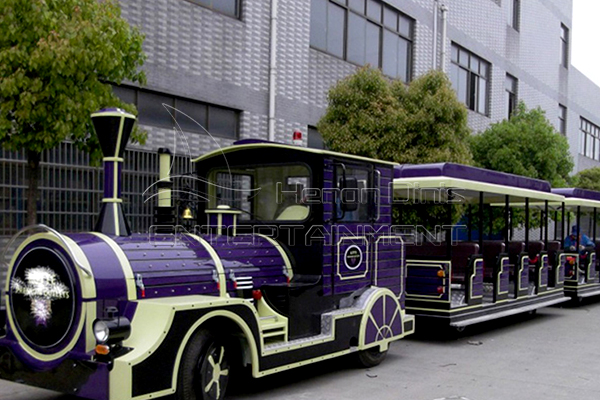 Professional Electric Tourist Train Manufacturer – Dinis
Are you looking for electric trains, tourist road trains, and trackless trains? Our company has! Zhengzhou Dinis Amusement Equipment Co., Ltd., designed a series of trackless trains, with various shapes, complete specifications, and professional customization!
This product is a tire running and uses a battery as a power source. You can use it for parks, plazas, playgrounds, attractions, etc.
Spot direct selling price is better.
Electric sightseeing train amusement equipment, powered by environmentally friendly batteries, has a wide range of applications and is not subject to site restrictions. Scenic spots, markets, communities, and amusement parks are all home to it.
Finally, it has the characteristics of energy saving, emission reduction, and environmental protection.