Carnival Promotional Electric Christmas Train Rides
Christmas is coming soon! Many merchants are preparing for Christmas events, and they hope to bring a unique and different experience to Christmas. Look, Dinis electric Santa train specially designed for Christmas is selling well. Do you know? The electric Christmas train is a very popular amusement ride. Hurry up, don't miss this best business opportunity. The beautiful electric Santa train is waiting for you!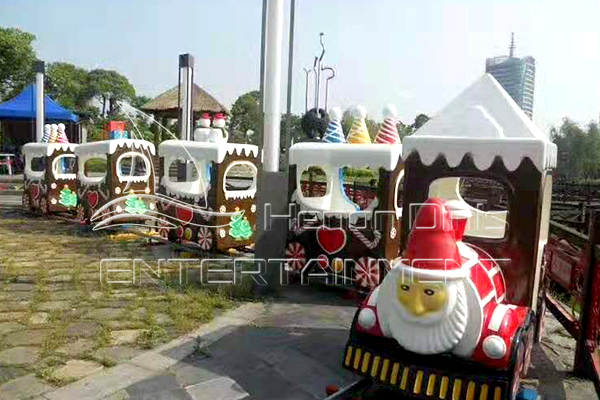 Enclosed Carriage Christmas Electric Train Is Available in Dinis
This carriage is a closed design. It has 2 more sturdy roofs. What's more, the enclosed carriage does not mean that it is completely enclosed. Because there are two doors on each side, the carriage is very spacious. Furthermore, 1 car can sit 4 people. When you ride this train, you won't feel stuffy. Because although it is a closed carriage, except the roof and the door, the others are open. Don't worry if you encounter rain and other weather.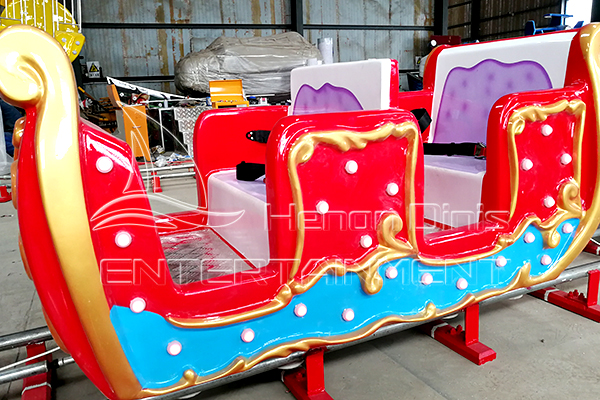 Open Carriage Electric Santa Train for Sale
This carriage is open. Moreover, it is completely open. Besides, there is no roof for the enclosed carriage, but it is also equipped with doors for safety reasons. Since it doesn't have a roof, it's better to enjoy the scenery, just like a ride. Similarly, 1 car can accommodate 4 people. If you like this open carriage, we can customize it. Please contact us soon.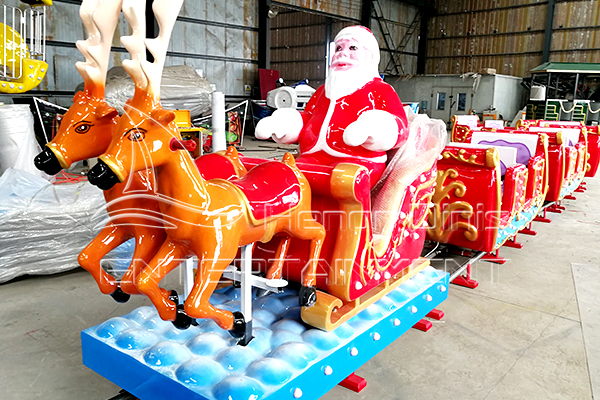 What Is the Most Attractive Point of the Christmas Train?
Dinis does not follow the trend, producing its own special Christmas train. First of all, the main element of the appearance of the electric Christmas train is Christmas. After that, decorate the entire electric Santa Claus train in red. Next, design the carriage according to the Christmas sleigh. Besides, many small lanterns surround the entire train. If you are riding in the evening, the lights will look even better when they are lit. Finally, the locomotive of the Xmas electric train has a Santa Claus and an elk. Riding Xmas electric train, it's really like Santa Claus and his reindeer, pulling a sleigh filled with gifts, and going door-to-door to give gifts to every child.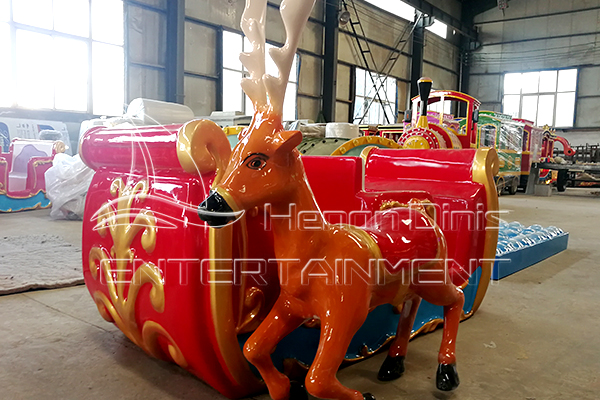 Electric Christmas trains is a kind of track train. On the one hand, there are tracks under the train, and the train tracks consists of formal rails. On the other hand, the running track of the Christmas train has many forms, which can be arc-shaped or other shapes. Moreover, according to the site conditions, we can customize it. The Christmas train inputs current into the track by the equipped with electric box, and then the train travels in an orderly manner along the track.
Precautions for Running Christmas Electric Trains
Remember to not connect the batteries inside the locomotive, otherwise it will cause a short circuit.
Before the train starts, please tidy up the track. Because it is necessary to check if there are any debris under the locomotive and the seat. This will prevent it from getting stuck.
While the train is driving, tourists cannot forcibly ride on the train halfway.
Pay attention to the speed of the train. If you find that the speed of the train is too fast, you must adjust it.
The train must turn off the power after a complete stop.
When children are on a train, the parents and staff need to be accompanied, in order to prevent any accidents.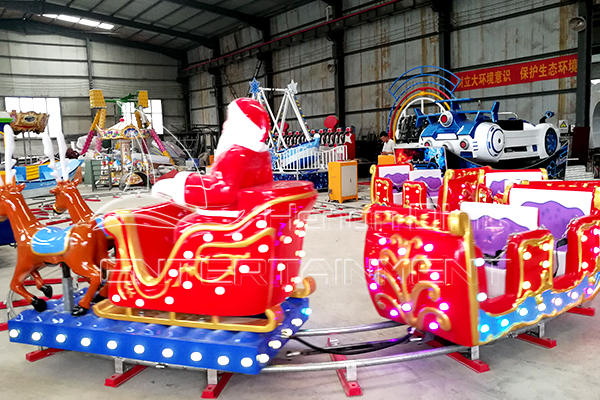 Where Can Electric Christmas Train Be Used?
The electric Santa train is a small amusement ride. It has a wide range of applications and a large number of passengers. Thus, it is very suitable for places with visitor's flow rate. Besides, these rides can be used not only outdoors, such as squares, amusement parks, parks, etc., but also indoors, such as shopping malls, supermarkets, etc. Further, this train is not very demanding on the site, as long as it is a flat ground of suitable size. Moreover, according to the site conditions, we can customize the specifications. Obviously, that the electric Santa train is a kind of amusement rides with large market demand, as well as scope of use.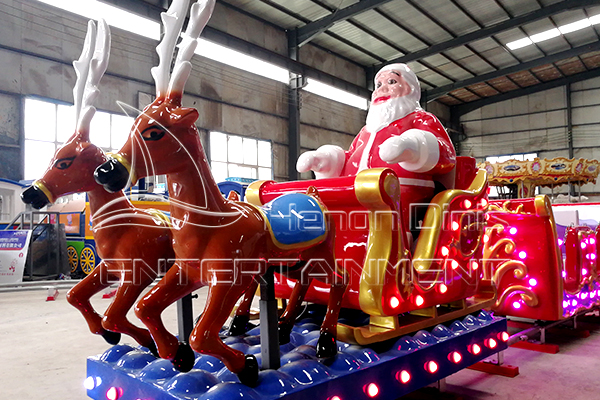 What Should You Consider When Purchasing an Amusement Ride?
Investing in the amusement equipment industry, we must choose products with large passenger volume. Our company's electric Christmas train is such a product. If there are no customers, this means that either the rides are not attractive enough or the quality of the product is a problem. If these are all available, then there will be no passenger volume? First of all, the electric Christmas train is a new type of amusement rides. It is mainly because of its fascinating appearance, colorful lighting and beautiful music; Therefore, many people like it very much. Secondly, Dinis is a professional manufacturer of amusement equipment. It has 15 years of manufacturing experience, rich production experience, and quality and after-sales protection. Isn't such a charming small train popular with people?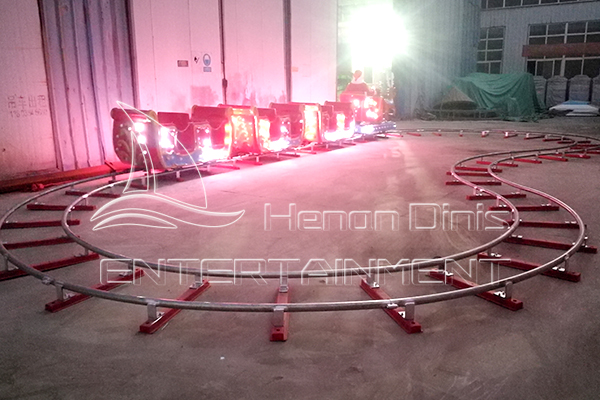 Buy Amusement Rides, Choose Dinis!
According to the requirements of the customers, we can customize the various amusement rides. For another, according to the actual venue, we can design the overall design for customers. Take the factory direct sales method, save the intermediate links and ensure your interests. Our factory has rich production experience, that make sure the price is more favorable than the same quality product. Our product sales strategy is small profits but quick turnover. Let us vigorously develop the market, develop and grow, and achieve a win-win situation with customers. Guarantee your satisfaction is our pursuit. Realizing your ideal is the driving force of our work. In order to best meet your needs.