High Benefit Train Supplier Dinis Amusement Park Train Set for Sale
The amusement park is a comprehensive entertainment venue. Usually, it is built near a metropolis with a large passenger flow. With the increasing number of amusement parks, there is an increasing demand for amusement park train set. Further, the amusement park is a place for tourists to relax and entertain, so there are only enough special amusement rides to attract tourists. Besides, Dinis's amusement park train sets are not only diverse, but also the best rides for amusement parks. First, it is a kind of amusement rides. Furthermore, it is also a means of transportation to bring benefits to operators. Most importantly, there are many tourists in the amusement park, so amusement train sets are the favorite fun rides of many people.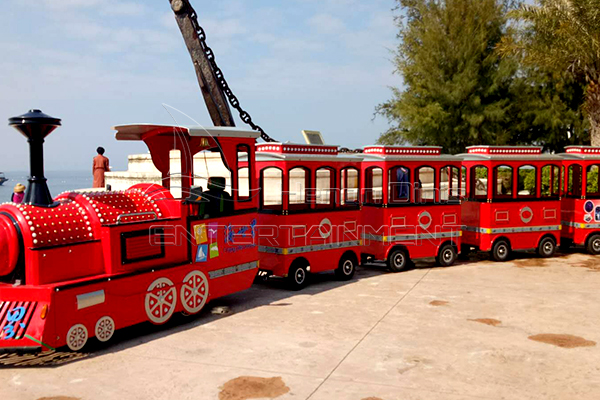 Parent-child Interactive Amusement Park Train Set for Sale
Our factory keeps pace with the times. On the one hand, we specializes in the production of amusement rides, that children love to play, parents like, and operators make money rides. On the other hand, the amusement trains produced by our factory are more than just play, but a ride that develops imagination and creativity too. Furthermore, the amusement park train rides are made of FRP, which is safe and environmentally friendly. Therefore, let the children take a safe and environmentally friendly amusement park train, parents are more assured. On the one hand, amusement park train set is novel and the color combination is lovelier. Both adults and children like it. What's more, letting parents and children play together, it can enhance the spiritual exchange and bring the parent-child relationship closer.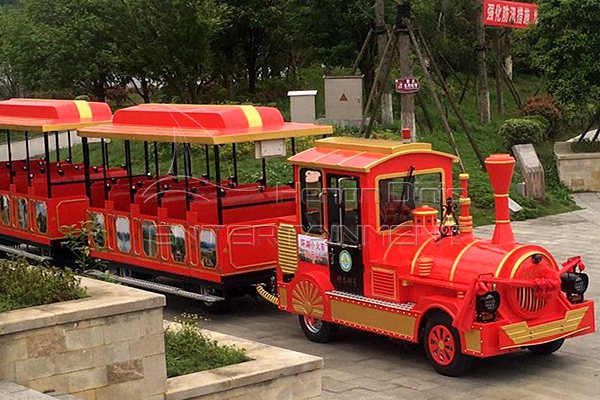 How Does an Amusement Park Train Set Bring a Different Ride Experience?
As a special means of transportation for attractions. While taking on passenger transport functions, this amusement park train rides are also an important tourist attraction.
This train can integrate many attractions in the scenic spot, especially for large-scale scenic spots. Furthermore, amusement park train are effective tools to enhance the accessibility of various attractions.
The amusement park's electric trains provide visual dining for visitors.
First, the amusement park train set can effectively cooperate with other vehicles. Secondly, effectively organize the scenic traffic system. Thus, the scenic spot and achieve seamless docking between the attractions.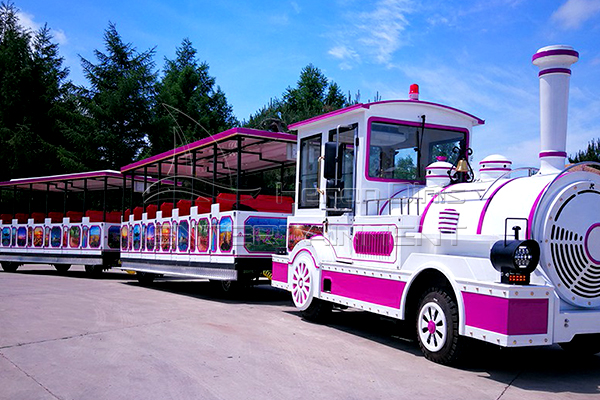 What Kinds of Attractive Trains in the Amusement Park Train Set?
The amusement park train set means there are all kinds of small trains. Which are the most attractive rides in the amusement park. Because of its beautiful appearance, realistic shape and casual entertainment. Besides, the amusement park trains have a wide variety of trains, including various cartoon shapes and animal shapes. For example, Thomas train, track trains- elephant track train, and trackless train – vintage amusement park train.
Amusement Park Train Set for Sale Thomas Train
The new Thomas train can take up 14 passengers, each style with its unique appearance, brilliant colors, and exciting game play forms. So, these are deeply attracted to every customer who rides it. What's more, according to the needs of our customers, we will also be equipped with lanterns and music. Thus, it will become even more charming at night. As you ride the Thomas train, you can experience the wonderful feelings and the feeling of being very happy.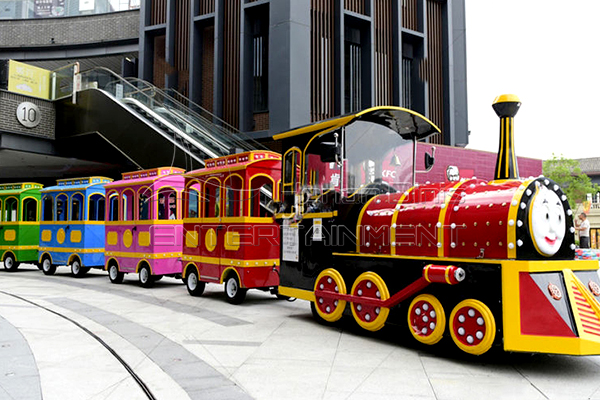 Track Trains – Elephant Track Train Produced by Dinis for Sale
The elephant track train is a new type of children's amusement rides. Further, it is the latest small train. In the first place, the shape is very luxurious and beautiful. In the second place, compared with the previous small train, the FRP is more refined, the color is brighter and the lighting effect is very good. When your child is sitting in a colorful and beautiful train, the train will rotate slowly and slowly. Then they are so enjoyable and happy. Besides, the dense jungle and the crooked track increase the fun of children's play. When the train is driving, it sometimes turns straight, or accelerates and decelerates. It seems that the children feel that they are driving in their own way.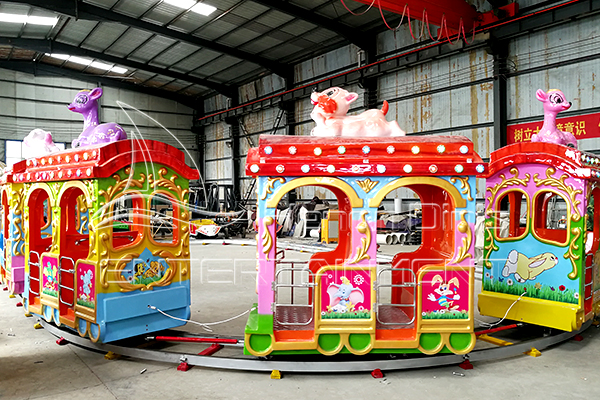 New Trackless Trains—Vintage Amusement Park Trains for Sale
With the rapid development of China's amusement industry, theme parks have gradually emerged. At this time, there is an urgent need for an amusement rides, that can solve the traffic problem in the amusement park, but it does not affect the amusement park landscape. For instance, vintage train serves as a rail vehicle for amusement park. With a large passenger capacity, stable operation and beautiful shape, it has become the first choice for many amusement parks. Moreover, it is a hot train ride in Dinis. Finally, the locomotive mimics the appearance of an 18th-century steam locomotive, and add antique elements such as drums, chimneys, etc.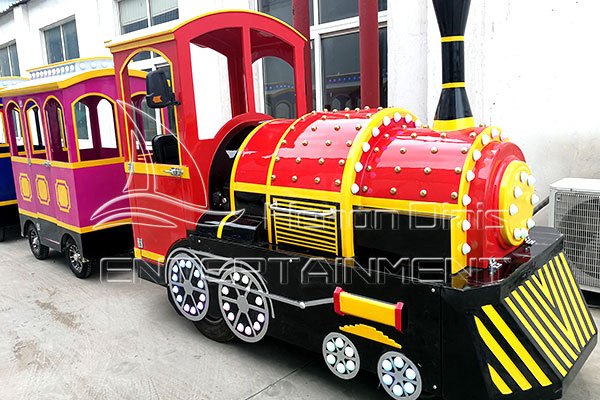 Don't Hesitate to Invest in an Amusement Park Train Set, Grab the Opportunity to Make Money!
The money-making amusement equipment you want, Zhengzhou Dinis has it. For investors, they want to make the most money with the least amount of money. Of course, this is based on the same quality. So, do you think so? If so, don't you come to Dinis Amusement Rides Factory to see how good the amusement train is selling? Don't miss the opportunity to invest in this business!
First, you must be different. In order to be able to let others affirm your value. Then you can stand out.
Second, our amusement rides factory is committed to producing small trains with a variety of styles, as well as beautiful exterior design and interior decoration.
Third, we have a professional technical team. Besides, we have an efficient production department. Finally, we have an experienced on-site construction team. Moreover, we have a comprehensive after-sales service system. After years of hard work, our small trains are exported to various countries. Received unanimous praise from the industry and customers
Fourth, the small train body shell adopts a new type of modeling process. On the one hand, careful creation of each car and add the adornment of emulation, it is like an art treasure. On the other hand, with the joyful music, the atmosphere is very lively and the theme is clear. Therefore, it is very popular among tourists, especially children. Suitable for use in parks, indoor and outdoor playgrounds, etc.