Definition of Tourist Road Trains for Sale
Dinis trackless tourist road trains for sale, it is a green and pollution-free electric trackless sightseeing train. First, it uses 16 sets of 12v lead-acid battery electric drive, as well as high-end DC motor drive, so the mute has no noise pollution to the surrounding environment. Besides, this small sightseeing train is very suitable for business. On the one hand, the technology is simple and easy to operate. On the other hand, this train installation is also very simple. For example, in parks, large amusement parks, communities, campuses, garden hotels, tourist attractions, resorts, city pedestrian streets, etc.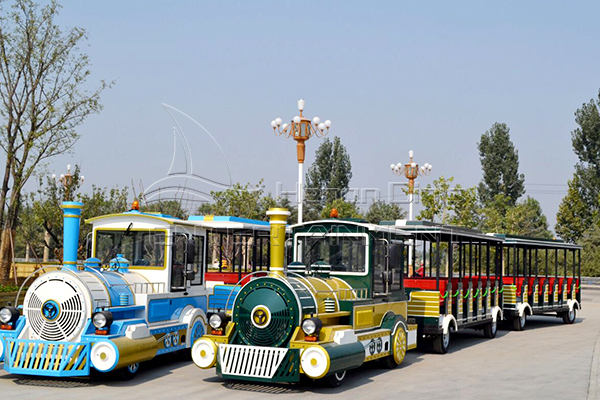 Classification of Dinis Tourist Road Trains for Sale
We believe that many people have seen the tourist road trains in various places! Yes, the tourist trains are very popular now, especially for some large amusement parks. First, the sightseeing train is already a must-have amusement equipment. If you want to start a business of amusement equipment, then we suggest you look at this hot tourist train! Now, Dinis Amusement Equipment Factory has two tourist road trains for sale. One is a small tourist train and the other is a large sightseeing train.
Small sightseeing trains are a very popular amusement device. First, its model is smaller than the big sightseeing train, so there is no need to consider the height of the equipment when operating this amusement equipment. For example, it can be operated in a shopping mall, that is, customers who can attract shopping malls can also get income. Besides, it can also be operated in amusement parks, forest parks, theme parks, etc. It is a very convenient means of transportation.
Dinis large-scale tourist road trains for sale, and you can choose from a variety of styles! This train is a frequent visitor to tourist attractions, resorts and city pedestrian streets. First, the train produced by our factory is a large road type train. Second, it can take up to 42 people, including children.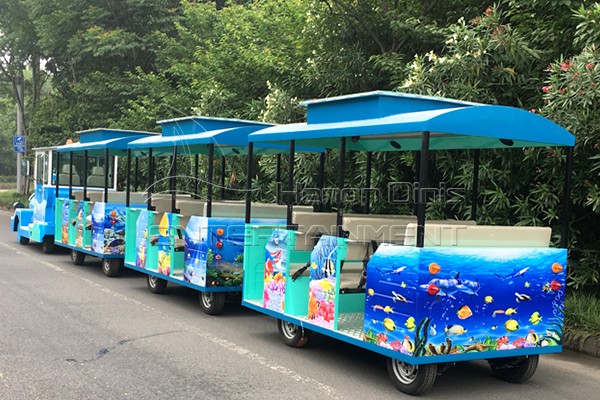 Antique Trackless Tourist Train Rides for Sale
There is a special small train here, come onlookers! Dinis tourist road trains for sale, many users are rushing to buy! Yes, it is one of our company's hot products.
On the one hand, we design and process our small trains with reference to the shape of the steam train in the 1970s. At the same time, reproduce the classic train image.
On the other hand, it is more beautiful and attractive than the previous train.
Besides, riding this electric trackless vintage train will give people a feeling of nostalgia.
Moreover, this equipment it is suitable for many places. For instance, scenic spots, shopping malls, communities and the like.
What's more, if you are running this electric tourist train in an amusement park, visitors can browse the scenic spots while sitting inside the train.
Finally, the most important thing is that it can effectively alleviate the traffic pressure at the peak of tourism and give visitors a different feeling.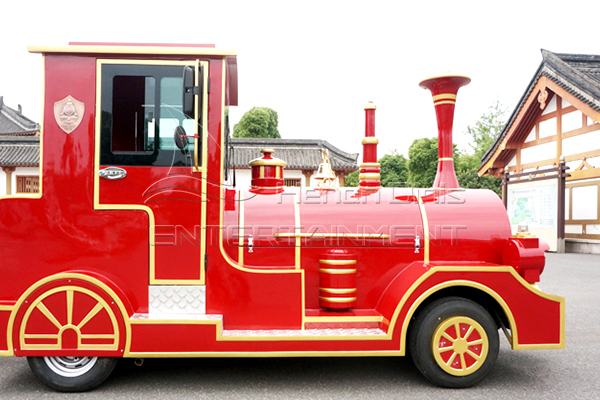 Bullet Trackless Tourist Road Trains for Sale
Dinis tourist trackless trains for sale, this is our company's trackless small tourist train. Meanwhile, this is a little electric train for sale for tourists.
First of all, it can be driven on a flat cement road, which is very popular among customers! Secondly, the product uses environmentally friendly batteries as a power source.
Then, the body of the train is a special glass fiber reinforced plastic material, so it is durable and can bring you long-term benefits.
Besides, the train carriage is colorful and bright, and it will attract a lot of tourists to stop and watch.
Finally, this friendly electric eco-friendly tourist train has a wide range of uses. For example, squares, shopping malls, large supermarkets, tourist areas, parks, amusement parks, residential areas, etc.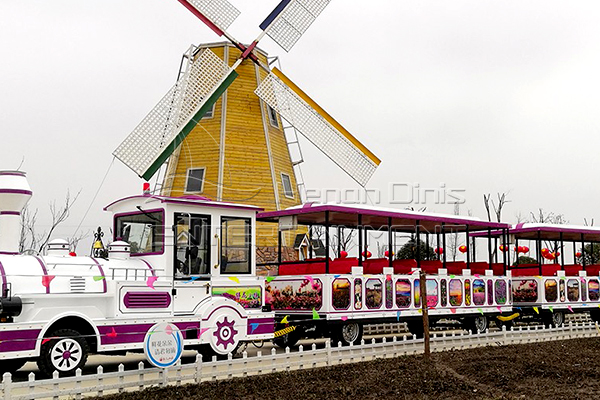 Elephant Tourist Fun Train Rides Are Available in Dinis Factory
Although the real elephant is big, people are afraid to approach. However, the Dinis elephant trackless kiddie trains are very cute and petite, and children like them very much!
On the one hand, this is a classic amusement equipment, which is very popular in large scenic spots and commercial streets!
On the other hand, the small train power supply is a battery with special tires that can travel freely on a flat road.
Besides, our company's elephant trackless train has a classic appearance and bright colors. For a long time, it has been a very good amusement train ride.
Then, this equipment can reduce or increase the number of carriages according to the needs of the operators.
Finally, when the train is driving, there will be music and whistle in the car, so that visitors can feel different scenery.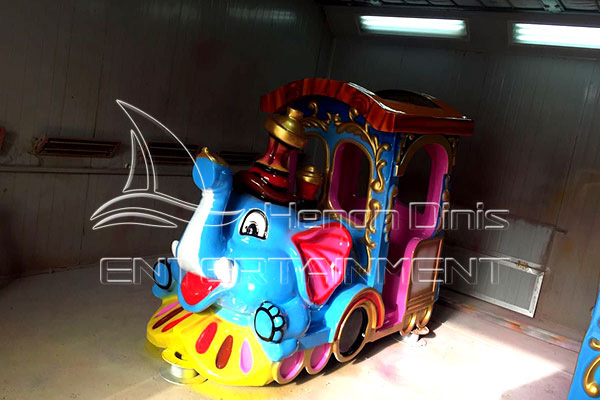 What Should You Pay Special Attention to When You Buy Tourist Road Trains?
First, safety is one of the most important aspects. Secondly, the safety here, including quality clearance, no harmful substances, and styling safety. Finally, the amusement equipment you purchase can have a positive effect on your child's growth.
Second, the expand ability of tourist amusement train equipment. Because if the user can unlimitedly expand the play of the play equipment. Then, it is very beneficial to satisfy the passengers' curiosity and stimulate their rich imagination.
Third, a good amusement train, it is best to have multi-person interaction. For children, this way you can enjoy the joy of getting along with others and the joy of cooperation and sharing. Secondly, this is extremely beneficial for cultivating communicative competence and team awareness.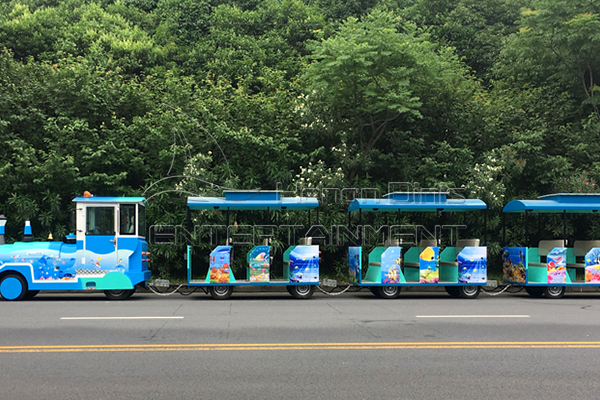 Investing in Tourist Trains Has Great Potential for Development!
Most of the large amusement parks are comprehensive amusement rides. In addition to the onshore facilities, there are other amusement rides around the park to meet the needs of different people. Secondly, due to weather and seasonal reasons, most of the amusement park business hours are concentrated in the holiday season, which also means the peak of tourists. Finally, despite the limited time of business, there is still huge market potential.
In recent years, amusement parks have developed rapidly. On the one hand, this is mainly due to its low input cost and ease of loading and unloading. On the other hand, it has low requirements for the venue, is environmentally friendly, flexible, and has wide applicability.
Nowadays, people's life rhythms are getting faster and faster. Besides, in addition to work, people prefer to participate in some new and fun projects. Come and see the Dinis amusement park train set! For example, amusement parks trackless tourist road trains for sale.
Some customers who purchase our company's amusement park trackless tourist road trains now have an ideal operating environment. Second, in less than three months, it began to realize the return and profit. Most importantly, the amusement park as an emerging theme park, you can integrate other tourism resources, which can also drive the development of regional tourism.
As a new type of amusement equipment, the vast number of developers have seen the development potential of the amusement park train, and then are willing to invest in tourist road train amusement equipment under the premise of harvesting huge benefits.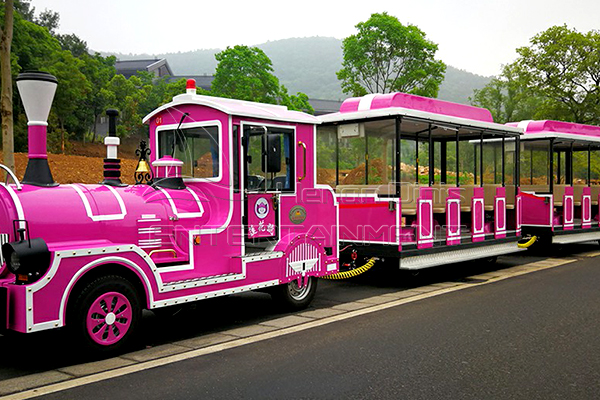 Characteristics of Tourist Road Trains for Sale
As a characteristic transportation means of scenic spots, sightseeing trains are also an important tourist attraction while taking on the passenger transportation function.
This tourist road train can integrate multiple scenic spots in the scenic spot, especially for large-scale scenic spots, the scenic small train is an effective tool to improve the accessibility of various scenic spots.
The tourism landscape design along the tourist and tourist train rides should be rich and varied, and the scenery should be changed to give visitors a visual meal.
There should be a scenic sightseeing station along the scenic small train. Besides to the necessary tourist rides, the scenic sightseeing station also has a variety of tourism activities and projects.
Tourist road trains can effectively cooperate with other vehicles to effectively organize the traffic system of the scenic spot and achieve seamless docking between the scenic spots.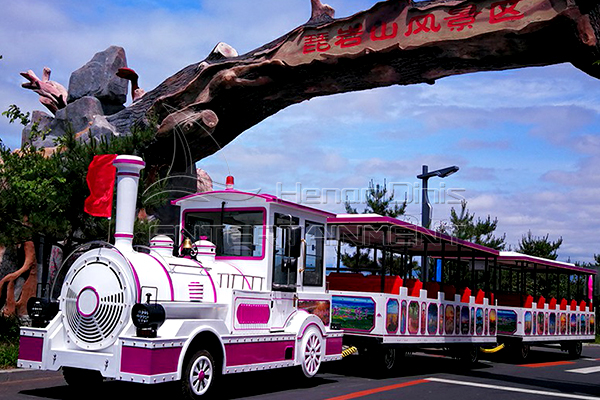 Structural Classification of Tourist Train Rides
Trackless electric train: The concept of train is quoted on the exterior. Compared with large-scale tourist trains, it has its own unique advantages, such as short manufacturing cycle and low manufacturing cost.
Giant tourist road trains for sale: Driving along the cement and asphalt roads of the scenic spot, and driving with the pneumatic tires and kilometers, it is called a sightseeing train.
What Is the Difference Between Large Tourist Train and Mini Tourist Train?
Equipment size: Obviously, the model of a large tourist train ride will be larger than a small tourist road trains.
Application site: First, the large tourist trackless train is suitable for outdoor operation. Second, small sightseeing trains are suitable for indoor and outdoor operations. Because the indoor amusement equipment should not only consider the size of the venue, but also the size of the equipment, so that it can operate normally. Of course, if your indoor venue is big enough, then if you want to choose a big sightseeing train, it's okay. However, if it is indoors, we recommend to choose a small sightseeing train. Because it is more cost-effective, it will not hinder indoor visitors.
Passenger volume: Generally speaking. Our tourist road trains for sale, it can take up to 40 to 42 people. Besides, small tourist trains are generally 14 to 24 people. For example, the elephant trackless sightseeing train is 14 and the antique train can take 24 people. Secondly, if the passengers are all adults, then the number of people that can be carried is less, and the children can sit more. Most importantly, depending on the actual needs, you can choose to increase and decrease the number of sections in the carriage.
Roof: On the one hand, the big tourist road trains have roofs. After all, they are running outdoors, sheltering and sheltering from the rain. On the other hand, small trains with roof and roofless. Besides, it has 2 ways to match. The first is two carriages without a roof and two cars with a roof. The second is all with a roof. Then, you can take around 4 people without a car roof, and you can carry about 6 people without a car roof.
Style: The shape of the large tourist train is more antique and luxurious, making it a very high-end atmosphere at a glance. Secondly, the small train has a variety of shapes such as antique, cartoon, and ocean. It is a small train suitable for adults and children!
Tourist Train Manufacturers – Dinis Amusement Rides Factory
Dinis Amusement Equipment Factory is a professional manufacturer of amusement train rides. On the one hand, we have our own factories, design, and production are done by us independently. On the other hand, we have professional designers, production staff and technicians. Besides, our company's business objectives are to survive by quality and develop by reputation. Most importantly, the indicators of our products have reached the quality standards of national amusement machinery. So, what are you waiting for? Dinis tourist road trains for sale, you can buy a tourist train sets for your business service. Come and visit our factory!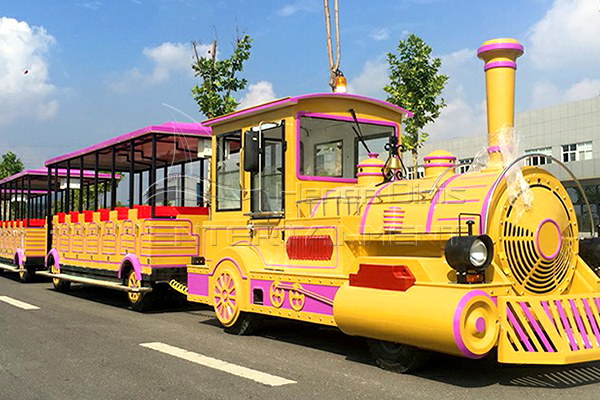 What Services Can a Tourist Road Train Provide?
First of all, you can enjoy the scenery with this kind of trackless tourist train ride. Because in amusement parks, ancient towns, and tourist attractions, there are always many beautiful sceneries. This time, if there is a sightseeing train, it will be fine! Because you can sit and take a rest and enjoy the beautiful scenery. Moreover, for the operators of amusement equipment, it is also a lot of income. Because this train has the most passengers.
Secondly, it can provide sightseeing services. Dinis's trackless electric tourist road trains for sale, and it is a tourist attraction in itself. It has a beautiful appearance, can take pictures with the train, and can take you to various places
What's more, this train is also a link to various attractions. For example, take a sightseeing train and enjoy the museum, the old town, and the park. At the same time, it also undertakes the services of the transportation hub.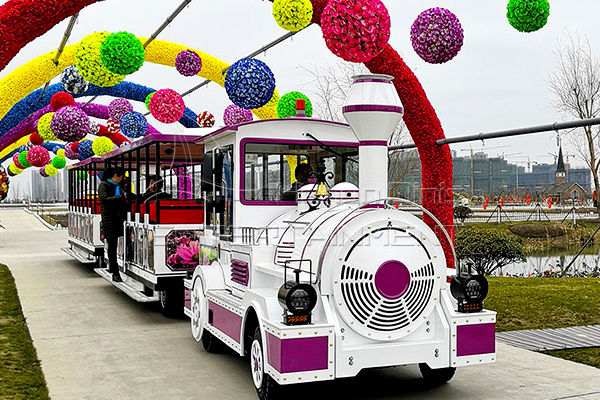 Questions About Discounts!
If you want to buy our train, then you can tell us about your approximate budget. We will charge you according to your budget, and then our sales manager will give you some discounts. Because, in fact, our prices are very competitive, so the prices we give are very favorable. Come to Dinis Amusement Equipment Factory to buy it!