Top Train Ride on for Kids
If amusement equipment is the eye of amusement park, then customers are the "finishing touch". Our factory operates amusement rides for two purposes. One is to make money; the other is also the most important to win the trust and reputation of customers. Because we want to do the best products, give customers the sincerest return. Look, according to the characteristics of children's age, we carefully designed a set of interactive, safe, casual amusement train. Moreover, the most important is through the three-dimensional scientific combination. Come and see what train ride on for kids there are!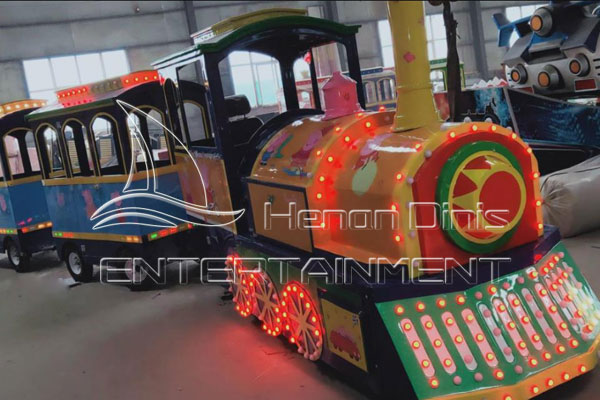 What Kind of Train Ride on for Kids?
First, because children are young, they are full of curiosity about the new things in the world. At this time, parents can satisfy their curiosity and take them to know new things. Because it's easier than letting them learn. Therefore, our train ride on for kids are the best choice. On the one hand, it is not only fun, but also can exercise children's physical coordination ability. On the other hand, it will give you endless screams and endless happiness. Among them, Thomas train, ocean train and so on are deeply loved by children.
Thomas Track Train Ride on for Kids
Dinis Thomas train for sale, factory direct sales, the latest colorful Thomas trackless train, price concessions. Then, you can also customize the stickers on the carriage. Besides, kids like it, adults also like to ride, because the space is big enough. Come and buy it. On the one hand, the Thomas train with super appeal is available in Dinis. Further, factory direct sales, low-priced sales. Do you know? From Thomas on the animated book, it became a well-known Thomas series cartoon. Besides, our Thomas track train is very popular with adults and children. Because it mainly attracts customers by white smiley face and colored body. On the other hand, you can choose our custom service, the shape and length of the track, the shape and color of the train can be customized. Therefore, if you want to buy a ride, you should first consider the Dinis Thomas electric track train.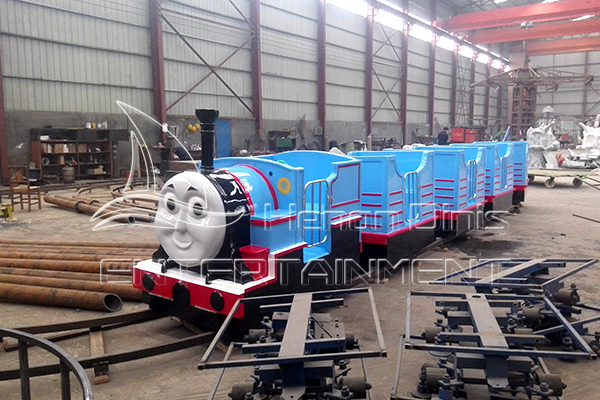 Ocean Trackless Train Ride on for Kids
The Ocean Trackless Train is a new type of amusement equipment that values the educational philosophy of children. First, it is a combination of dynamic and static. Secondly, it allows children to choose their own game play in constant challenges, experience the joy of customs clearance and experience the constant challenge of confidence. On the one hand, it uses experience activities as the basic education model. On the other hand, a series of fun activities give young people the opportunity to contact nature and society.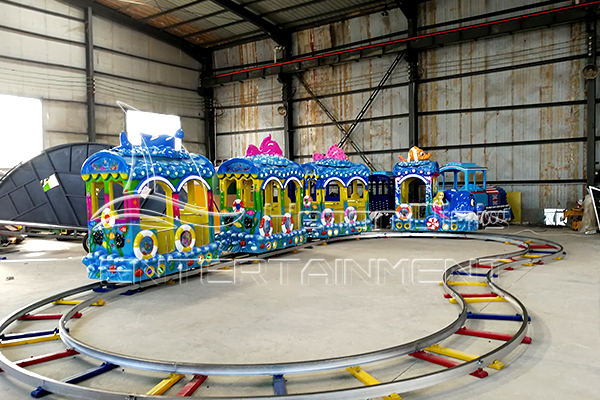 How to Build an Electric Train Rides for Kids?
Dinis is committed to producing high quality kid train rides. There are different trains to choose from depending on the venue and theme and the drive method. On the one hand, depending on the venue, we have indoor and outdoor rides, as well as backyard children trains. On the other hand, different themes have different characteristics of the train. For example, the Carnival series, the Christmas series and the birthday theme series. All in all, a wide variety, please contact us if you are interested!
Accompany Your Child to Grow Up and Enjoy Parent-Child Time!
Since children are young, they need their parent's company. This moment, parents take their children to play something they like on holidays. Because they don't have troubles at this age, what's more, being together as a family can not only enhance the relationship but also enrich the childhood of kids. Further, the Dinis train ride on for kids for sale, it is a super fun train for parent-child interaction, and has your own parent-child time. On the one hand, our factory not only produces small train rides, but also a children's train for families to ride together. Moreover, it's bigger than a mini train.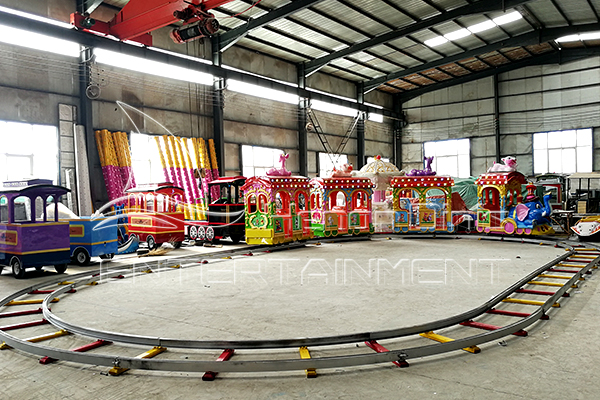 Train Ride on for Kids, Bring Different Surprises!
Children's electric trains are popular amusement parks such as amusement parks, playgrounds, theme parks, plazas and shopping centers, gardens, and carnivals. So, it has always been a favorite of children and adults. First, the kiddie electric trains manufactured by Dinis Amusement Equipment Factory are well known all over the world. Besides, its design innovation. There are several electric trains in Dinis: trackless trains, track trains, shopping mall trains, park trains, etc. We promise to provide high quality trains at a better price. Most importantly, our company has received many accolades from customers around the world. When you have any needs or needs, please contact us immediately!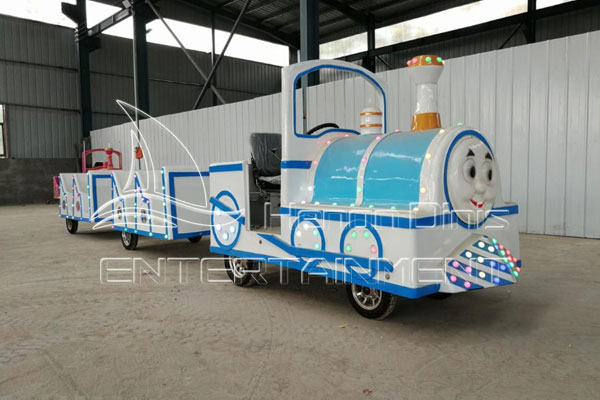 Why Doesn't the Kid Want to Get off the Train?
All kinds of colors, lovely cartoons decorate the train. Secondly, all shapes, drawings, colors and music can be customized by customers.
Safe operation, high quality and reasonable price.
We decorate small trains with LED lights. Therefore, the children's electric trains at night are full of romance at night.
Electric motor drive, small train environmental protection.
The new style and high-quality performance, more importantly is also safe. What's more, it is suitable for amusement park and shopping center and other places.
The kids train has a long use time. Most important, Dinis promises to provide all customers with perfect after-sales service.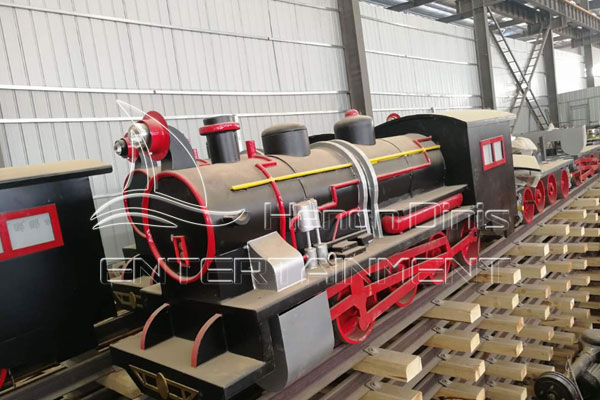 How Much Is a Child Train Ride?
The new special child train hot order, quality assurance! For one thing, the children's trackless train as a green means of transportation, its price has many aspects. First, its wheels are different from normal. Secondly, the number of materials and carriages is part of the price. Besides, factory direct sales are much cheaper than agents. For another, our track trains for kids are more suitable for them, because children can operate on their own. Then, this is a very exciting thing. Further, the length of the track and the train style are factors that affect the price of the track train. Finally, whether it is a trackless or track kiddie train, the price is very favorable, please contact us!