Dinis Happy Carnival Train Rides for Sale
The amusement rides carnival is coming! Riding carnival train is the liveliest thing at the amusement park, attractions. When it appears, everyone will be curious about it. Besides, looking at a favorite cartoon image's carnival train rides, that it can bring all your passions out. When riding the carnival train, it can not only serve as a means of transportation, but also ensure that customers have fun! What's more, there are many kinds of carnival train rides for sale, such as the carnival trackless train and the carnival tourist train. Further, you can see it in parks, plazas, shopping malls, attractions, etc. So, when you are riding on a carnival trains, you can also play carnival train games with your families, its interactive is strong.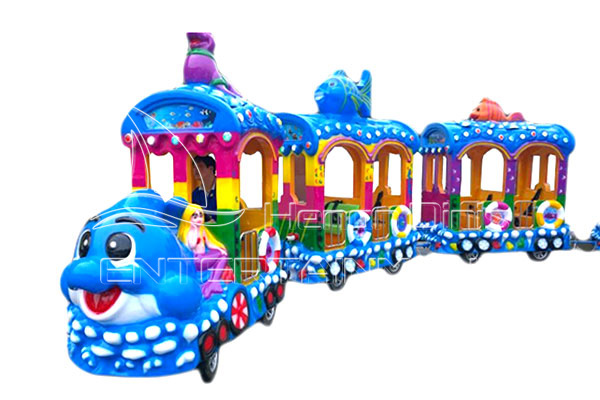 Top Carnival Trackless Train Rides for Sale
The carnival trackless train is a small star in the small trains industry. First, this amusement rides have colored lights on the top and wheels of the carnival trains. Besides, it makes the lights look beautiful at start up. Second, it is a means of transportation for attractions. At the end, design its appearance based on vintage or cartoon images. What is more important, it is durable, can bring you a long-term good income.
Attractive Design Trackless Carnival Train Rides for Sale in Dinis
First, carnival trackless train is no track limit, if it is a flat road, you can drive.
Secondly, the carnival trackless trains use FRP materials, which are corrosion resistant, bright in color, smooth in surface and difficult to fade.
Then, the carnival trackless trains use environmentally friendly batteries as power, besides, it can save energy and is easy to use.
Finally, our factory's glass is self-produced. Therefore, this is to avoid the inability to control the quality of external procurement.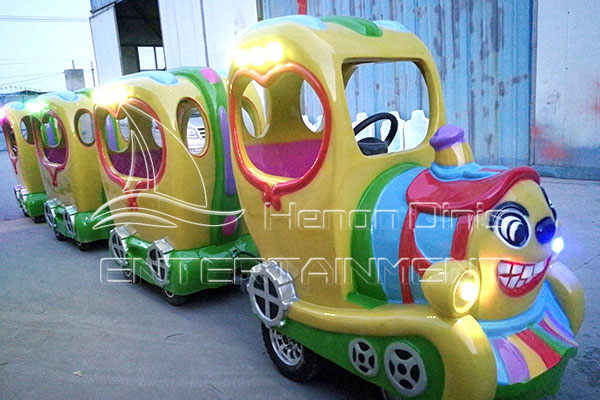 Popular Children's Sightseeing Carnival Train Rides for Sale
Dinis tourist carnival train rides for sale. Meanwhile, this children carnival tourist train rides is a new type of amusement trains. Besides, through observing the children's entertainment psychology, Dinis children carnival sightseeing train adopt colorful appearance, give children a visual impact. In the function of the carnival tourist road train, the design of new sightseeing carnival train stimulates the child's curiosity, develop kid's intelligence. Therefore, after this kind of amusement rides entered the market extensively, it can achieve the best ride effect.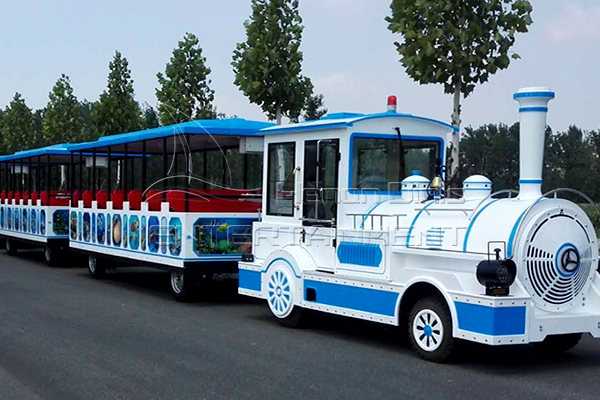 Where Can the Carnival Train Be Used?
There are no restrictions on the venue of the rides. Therefore, carnival trains are easier to see in public places with large passenger flow. Such as plazas, shopping malls, large supermarkets, tourist areas, parks, amusement parks and residential areas, etc. Whether indoor or outdoor.
The Role of the Carnival Train Rides
It is not only an entertainment resource, but also as an amusement rides that enhances the quality of places such as attractions.
Configuration Details of Dinis Carnival Train Rides for Sale
For one thing, the carnival train rides is a green and pollution-free electric tourist fun trains. For another, the carnival train rides are easy to operate. Furthermore, it is driven by 16 sets of 12 v lead-acid batteries, and high-grade DC motor, and no noise pollution to the surrounding environment.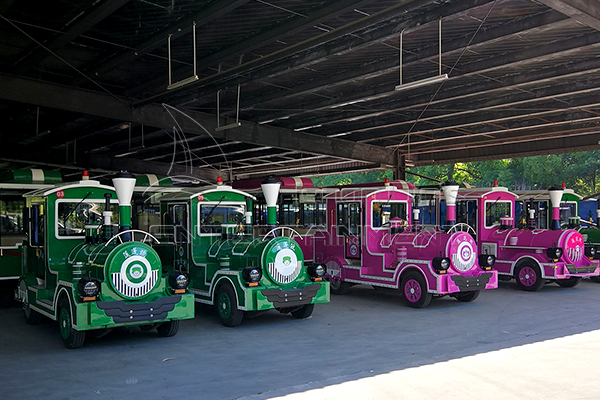 What's the Carnival Train Rides Specification?
This holiday carnival train rides designed by Zhengzhou Dinis Company has various styles. What's more, the size of the styles can be customized according to the needs of the venue. If you want to know about this carnival train rides for sale, please call us.
Working principle: The carnival train rides are powered by battery, then slowly drive.
Product material: The main material consists of high-quality steel, glass steel, stainless steel, paint, motor and so on.
Applicable people: All ages (toddler need to be accompanied by an adult)
Customize: For your requirements, we can customize the style of the carnival train rides. Generally speaking. if you think of it, we can do it. Of course, this is based on price.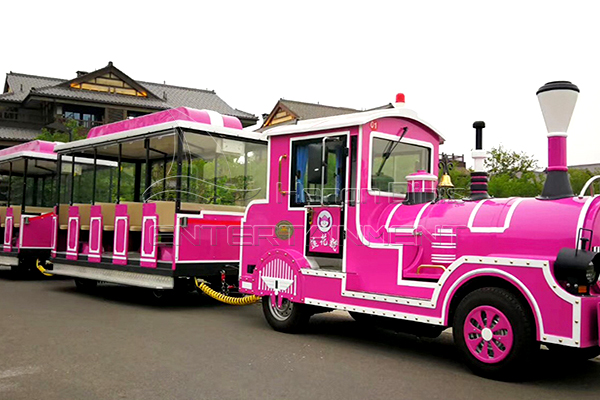 Why Is Dinis Carnival Train Rides So Hot?
Zhengzhou Dinis Amusement Equipment Machinery Manufacturing Co., Ltd. is a professional manufacturer specializing in amusement rides. Furthermore, our amusement rides factory has a group of excellent designers and professional technical workers. On the one hand, customers are very fond of the products we produce. Therefore, we receive high praise and appreciation from our customers. On the other hand, they are very popular among kids and young friends. Welcome to visit our factory.
The products we produce guarantee safety, because of its reasonable structural design.
Carnival train rides can keep children's interest for a long time.
The carnival trains can stimulate the senses and make visitors very excited.
Carnival train rides for sale, and it is a specially design for children of all ages.
Our company's products are safe, innovative and stimulating.
Dinis amusement rides factory fully reflects the new concept and aesthetic taste of the modern amusement rides industry.
Well-designed, high quality is our company's product requirements.
Our product specifications meet the the national amusement machine equipment quality standards.
The color is bright and the appearance is realistic.